2022 Annual Meetings Opening Press Conference
2022 Annual Meetings Opening Press Conference
ABOUT THE EVENT
FAQ
CHAPTERS
A complex and interwoven set of historic challenges – COVID-19, war in Ukraine, high inflation, and food shortages – is having a devastating impact on the poor around the world. President David Malpass talked about the crisis of development facing the world and what the World Bank Group is doing to help countries confront it. He took questions from international media representatives covering the 2022 Annual Meetings.
Do I need to register? This is a public event — no registration is required. However, we encourage you to set a reminder by signing up for e-mail reminders or adding the event to your calendar. 
Where can I watch the event? To join the event, simply come back to this page. This event will also stream on the World Bank's social media channels on Twitter, Facebook and LinkedIn. 
What happens if I miss the event? The recording will be available on this page shortly after the event ends. 
00:00 Welcome! Annual Meetings | Opening Press Conference
00:52 Opening remarks by WBG President David Malpass
06:02 Global recession and impact on low-income economies
08:26 Policy recommendations for Sub-Saharan Africa
11:38 Support for Egypt
15:39 Key risks to the global economic outlook and their impact on small economies
17:30 Ensuring the entry of public and private investments in Ukraine
19:45 Nigeria: Debt stance / Energy subsidies
23:29 Support to countries other than Ukraine
27:51 Potential expansion of bank lending capacity / Capital adequacy frameworks
31:34 Poverty alleviation, digitization, and cash transfers
33:34 Fossil fuel infrastructure
35:05 Closure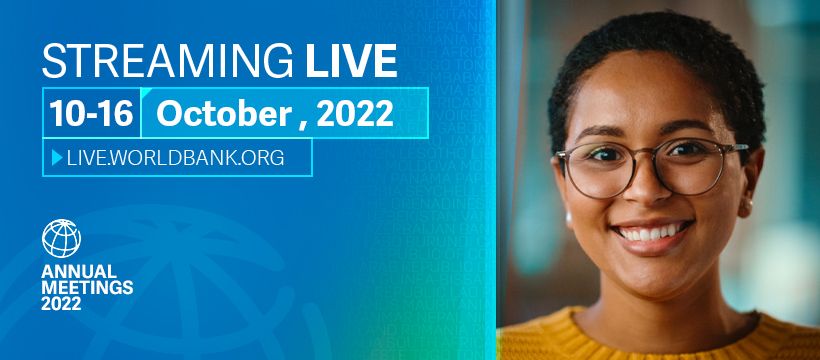 Watch the full event replays.
Oct. 10: Curtain Raiser
Oct. 11: Civil Society Townhall
Oct. 11: Inclusive Growth
Oct. 11: Food and Energy
Oct. 12: Ukraine Ministerial Roundtable
Oct. 12: Investing in Education
Oct. 13: Press Conference
Oct. 13: People and Planet
Oct. 14: Annual Meetings Plenary
Oct. 15: State of Africa Region
Oct. 15: Human Capital Conclave
Available with interpretation in Arabic, French and Spanish.