Second Ukraine Ministerial Roundtable
Second Ministerial Roundtable Discussion for Support to Ukraine
ABOUT THE EVENT
FAQ
CHAPTERS
Watch in Ukrainian: УКРАЇНСЬКА
Russia's invasion of Ukraine is having devastating and far-reaching human and economic impacts. Economic support from the international community has been instrumental to ensuring continuity of essential services—such as healthcare, education, pensions, and social protection—for the people of Ukraine as well as providing for humanitarian needs.
A ministerial roundtable took place on Wednesday, October 12th, co-chaired by the Government of Ukraine, the World Bank Group, and the IMF to discuss Ukraine's financing needs, priorities for sustaining essential services during wartime, as well as priority recovery and reconstruction projects that can be quickly initiated.
Do I need to register? This is a public event — no registration is required. However, we encourage you to set a reminder by signing up for e-mail reminders or adding the event to your calendar. 
Where can I watch the event? To join the event, simply come back to this page. The broadcast will also be available in Ukrainian, Arabic, French, and Spanish, and streamed on World Bank's social media channels on Twitter, Facebook and LinkedIn. 
What happens if I miss the event? The recording will be available on this page shortly after the event ends. 
00:00 Opening remarks by David Malpass, WBG President
01:11 Remarks by Volodymyr Zelensky, President, Ukraine
10:32 Remarks by Denys Shymhal, Prime Minister of Ukraine
17:12 Remarks by Kristalina Georgieva, IMF Managing Director
22:54 Remarks by Janet Yellen, U.S. Secretary of the Treasury
26:29 Closing remarks by David Malpass, WBG President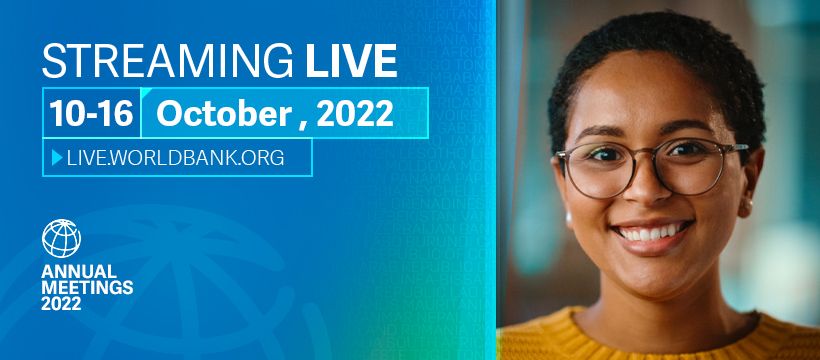 Watch the full event replays.
Oct. 10: Curtain Raiser
Oct. 11: Civil Society Townhall
Oct. 11: Inclusive Growth
Oct. 11: Food and Energy
Oct. 12: Ukraine Ministerial Roundtable
Oct. 12: Investing in Education
Oct. 13: Press Conference
Oct. 13: People and Planet
Oct. 14: Annual Meetings Plenary
Oct. 15: State of Africa Region
Oct. 15: Human Capital Conclave
Available with interpretation in Arabic, French and Spanish.