Key Green Transitions for People and Planet
Key Green Transitions: How Systems Are Changing for People and Planet
Everyone should be able to live a sustainable life on a healthy planet. But the last six years have been the hottest on record. Record-breaking wildfires, droughts, floods and hurricanes have taken lives, damaged homes, hospitals and businesses. Meanwhile, COVID-19 took a heavy health and economic toll and pushed millions into extreme poverty.
How can we change course?
As countries renew their commitments to the Paris Agreement ahead of a pivotal November meeting in Glasgow, keeping global temperature rise to well below 2°C will require coordinated global action at an unprecedented scale and speed.
"The science is coming back at us stronger, harder, bigger, faster, and it's telling us that we are running out of time," said John Kerry, US Special Presidential Envoy for Climate Change, at an April 8 virtual event during the World Bank Group-IMF Spring Meetings.
Decarbonizing key sectors
The event, Key Green Transitions: How Systems Are Changing for People and Planet centered on the need to decarbonize key sectors of the economy that account for more than 90% of global greenhouse gas (GHG) emissions, including energy, transport and food systems. Read More
The event brought together ministers, CEOs, young leaders and civil society representatives to discuss solutions and the priorities for the 2021 United Nations Climate Change Conference (COP26) in November.
Solutions are most urgently needed in developing countries, where the investment gap is deepest and people are most disproportionately affected by the climate crisis.
"To deliver impact, the [World Bank Group] will prioritize transitions and key systems, use its convening power to support a just transition out of coal, and …  become aligned with the principles and goals of the Paris Agreement," said World Bank Group President David Malpass.
Already the largest multilateral provider of climate finance for developing countries, the Bank Group will increase climate finance to 35% of overall financing under a new Climate Change Action Plan.
Green and inclusive recoveries
Supporting countries to prepare for and invest in low-carbon, resilient development can be part of, and aid in, a green and inclusive recovery from the COVID-19 pandemic.
 "Climate change is upon us and we are going to have to make our food supply chains, our infrastructure, our transportation more resilient, which will require investment," said Shemara Wikramanayake, CEO of the Macquarie Group.
Pakistan set targets of 60% clean energy and 30% electric vehicles by 2030. "We are moving towards a clean energy future for Pakistan," said Malik Amin Aslam, Special Assistant to the Prime Minister on Climate Change.
Egypt has worked to mainstream climate change, reduce fossil fuel subsidies, develop mass transit, and reduce air pollution: "50% of our projects in the next three years will be green projects taking climate impacts into consideration," said Yasmine Fouad, Minister of Environment.
Costa Rica is investing in transportation improvements, including non-motorized infrastructure to encourage walking and cycling, and greening and electrifying public transport. "Costa Ricans have a special sensitivity toward nature and to tackle the urban agenda was the next step," said First Lady Claudia Dobles Camargo. 
However, many countries are facing fiscal constraints in the wake of the pandemic.
"What I have observed as a finance minister is, first, how are you going to design the transition from business as usual to significantly reduce CO2 emissions for a country, and how are you going to design the recovery of the economy, while at the same time strengthening this commitment to the climate change agreement?" said Indonesia's Finance Minister Sri Mulyani Indrawati.
Lucy Heintz, Partner and Energy Fund Manager, Actis, said the private sector can play a critical role in low-carbon transitions.  "The pandemic has severely impacted government finances and growth. The good news is that the private sector has the appetite to invest and contribute, and actually all the tools for the energy transition investment are available." 
These tools include innovation. "Advances in technology -- batteries, solar, artificial intelligence -- now make it possible to end energy poverty within the next decade," said Rockefeller Foundation President Rajiv Shah.
"Energy access has to be part of the energy transition story," said Damilola Ogunbiyi, CEO of Sustainable Energy for All.
Likewise, all people need access to sanitation. "We're focused on determining what it takes to deliver what we call citywide inclusive sanitation," said Brian Arbogast, Director of Water, Sanitation, and Hygiene, Bill & Melinda Gates Foundation. "And what inclusive really focuses on is making sure that even the poorest communities in the city are reached with high quality services."
And, with 4 billion people living in frequently water-stressed regions, a shift toward more sustainable land use is a priority to boost food security and protect natural resources.
"We have only 9 years to achieve systemic change to make sure that food and food production become not a part of the problem but of the solution," said Kitty van der Heijden, Director General for International Cooperation, Ministry of Foreign Affairs, Netherlands.
""It is expected that climate stressors will further increase agricultural and environmental losses in Central Asia if coordinated actions are not taken," said Sulton Rakhimzoda, Chairman of the Executive Committee of the International Fund for Saving the Aral Sea. "Improving Water Resources Management at the national and regional levels is key to address this challenge."
"We now have the science to show that we can make healthy and sustainably produced food both affordable and accessible. And we can do that for everybody on the planet," said Gunhild Stordalen, Founder and Executive Chair, EAT.
With climate change and biodiversity loss threatening nature's capacity to sustain healthy life and nutritious diets, nature is a top theme of global conversations in 2021.
"COP26 is a vital step on the path to putting nature at center stage in our fight against climate change," said the UK's Prince William in a video message. "The decisions that leaders take in Glasgow will echo down the generations for years to come. So let's make it count." Read Less
---
This event replay is available with captions in multiple languages. You can select the language of your choice in the video above OR you can use the following links to watch the event with translated audio in Arabic, French and Spanish.
To view the full conversation with David Malpass, John Kerry, Sri Mulyani Indrawati, and Shemara Wikramanayake, please watch at this link.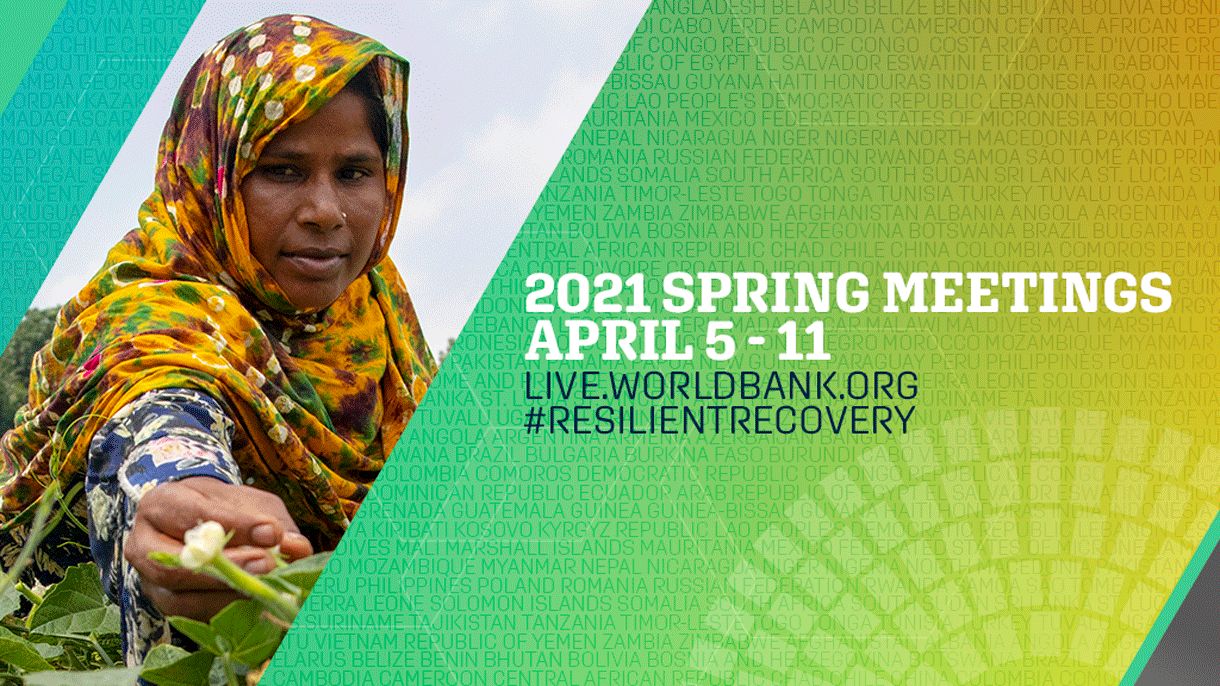 Watch the full replays of the Spring Meetings 2021 World Bank Group public events
Strategic Advisor at the Global Landscapes Forum, Connect4Climate Youth Ambassador

@salina_abraha
Watch More Events on Green Resilience