Building Resilience and Reshaping Development
Building Resilience and Reshaping Development | The Way Forward
ABOUT THE EVENT
AGENDA
TRANSCRIPT
A conversation between IMF Managing Director Kristalina Georgieva and World Bank Group President David Malpass
World Bank Group President David Malpass and IMF Managing Director Kristalina Georgieva kicked off the Spring Meetings with a discussion on the complex challenges facing the global economy. 
They discussed the debt problems facing developing countries, slow economic growth, rising inflation, as well as issues of financial sustainability and international cooperation.
"How do we work together to find a path for the country that has better growth on the other side?" said President Malpass. "And the challenge is the burdens keep adding up—the burden of debt, the burden of climate, the burden of higher food prices."
The two leaders also talked about some of the effects of the pandemic that are still weighing on economies and also reflected on the support both institutions provided the global community during the crisis.
[Noreyana Fernando]
Hello everybody. Thank you for joining us in Washington DC for the World Bank Group and IMF spring meetings, 2023. I'm Noreyana Fernando, your host for today's event, Building Resilience and Reshaping Development, a conversation between World Bank Group president David Malpass and IMF managing director Kristalina Georgieva. It has been three years since the start of the pandemic and the uncertainties and risks still weigh on the global economy. The poor and the vulnerable are the most affected by inflation. The cost-of-living crisis and slower growth and the effects of climate change and the war in Ukraine continue to disrupt lives and livelihoods around the world. Now these Spring meetings are focused on these global challenges and how we can respond to them to promote growth, equity and prosperity for all. President Malpass and Managing Director Georgieva will discuss these issues during the next half hour. Now remember, you can share your thoughts on these topics at any time using the hashtag #ReshapingDevelopment. We're live on Twitter, Facebook and LinkedIn with simultaneous interpretation in Arabic, French and Spanish. Now, to kick off this week's public programming, I will hand it over to President Malpass and MD Georgieva.
[David R. Malpass]
Thank you very much. Hello everyone and welcome. We are starting off the week of meetings of the World Bank-IMF Meetings, the IMF-World Bank Spring Meetings with a big agenda. We want to talk about the world economy, about the debt problems facing developing countries, but the overall theme is how we can get better outcomes for people around the world and especially for people that are on the lower end of the income scale, people in developing countries and people in middle-income countries and advanced economies that are suffering from lower incomes and from the costs of climate change, for instance. And so that's the thrust of these Spring Meetings. I wonder, Kristalina, IMF does a lot of looking at the global economic outlook. We are worried about the slowness of growth now and the prospect that it might stay slow. What do you think and what are the big challenges?
[Kristalina Georgieva]
Well, David, let me first thank you for honoring this tradition for us to start the Meetings' week together. You're right, we are yet again assembling our membership at a time of high uncertainty. The recovery we so much are hoping for, a robust recovery, is still a bit elusive. Why? Because we do have a significant inflation problem. That means central banks have to continue to keep interest rates higher to combat it. And that is on the way of restoring the prospects for robust growth. We have seen that this rapid transition from low interest rates, abundant liquidity, to high interest rates and much less available liquidity, has exposed vulnerabilities in the financial sector that made the task of policymakers even harder. So, in that context, what we are projecting for this year is, despite the remarkable resilience of consumer spending in the United States, in Europe, despite the uplift from China's reopening, global growth would remain below 3% as we projected it earlier this year. And what is more concerning, it would remain around 3% for the next five years. That does not give us high hope for meeting the aspirations of people, especially poor people around the world, and most importantly, poor people in poor countries.
Let me stress three issues in that context. The first one is that this picture of growth is divergent. There are emerging markets that are doing better, but for frontier markets, for the poor countries, the future is not so bright. in terms of income-per-capita growth, poor countries would remain below income-per-capita growth in middle-income countries. Dangerous divergence. Two, we have been wrestling with one crisis after another, one shock after another, and that has pushed on the back burner the longer-term agenda of structural reforms that are paramount to uplift productivity. With productivity remaining low, the prospects for growth are low. And three, the ropes that tie us together have become weaker over the last years. Fragmentation is deepening, and what it means is that what has generated tremendous impetus for growth and prosperity over the last three decades, an integrated economy, is being negatively impacted. We have done research at the IMF that shows that just the costs of trade fragmentation can run as high as 7% of global GDP over the years. So, these Meetings are an opportunity for us not only to talk about the immediate priorities of restoring price stability and safeguarding financial stability, but also about the longer-term prospects of growth and how prosperity can be an achievable objective for the lower-income countries. Which takes me to you, how do you see that?
[David R. Malpass]
Exactly right. As we look at it, the elements of growth into the future, it's important that there be more investment, investment in small businesses, in new businesses. That means a flow of capital. A worry that we have for developing countries is the capital flow right now is out of developing countries. So, for many of the developing countries, it looks like they're in a phase of decapitalization rather than recapitalization. That goes with your point that instead of having convergence, meaning people with lower incomes growing faster than people with higher incomes, so convergence toward a higher level, that's not happening right now, it's actually a divergence, and that's gravely concerning. That means inequality, that means fragility for countries, and we see more countries falling into fragility. One of the concerns with high prices now, high prices are being applied to food and fertilizer. A concern for the poorest around the world is the farmers are not able to plant, and if they don't get fertilizer often, they won't plant for the crop cycle because they know that their yields will be too low. And so, it's an urgent need, and we've worked on this over the last six months, but what still has room to come together is that the fertilizer resources go to the people that can pay the most, and that means those farmers are providing the global crop supplies. And so that's a challenge. Right now, for example, wheat supplies globally are at a low level. China has substantial stockpiles, but most of the other countries have drawn down their stockpiles, and so that points to a period of strain on global food supplies. I wanted to pick up on your point about the trade fragmentation. So, as we think about that, trade is vital to productivity within the world. People swapping goods in their village, within their country and across borders is a way to add value, to create more productivity. And to the extent that that breaks down into regional blocks or protectionist blocks, that's a concern. Right now, that's the direction of travel for the world. As it looks to stop the globalization and to reverse it, the risk is that it will come out with unproductive structures and that also will weigh on world growth. I'll finish on your opening point, that just the move from very low interest rates, I think artificially low interest rates, and the capital allocation that went with it, meaning investors all over the world were making decisions based on the idea that it was 0% interest rates for a long period of time, low for long, and that misallocated the capital. So, to bring that back to productive uses is really hard. If you say well, we're going to keep the interest rates at current levels or go to more normal levels of interest rates, that means losses for banks that had a duration mismatch, as we saw with Silicon Valley Bank. So, there's losses being allocated by the world system now, but we should keep in mind, if you just lower the interest rates back down, it won't solve the problem. What that means is that people will suffer from inflation. The dollar weakens, the inflation rate goes back up and that hurts the poor the most. So, I think there has to be a goal of finding a low inflation environment and dollar stability for the future.
[Kristalina Georgieva]
I very much agree with that. Central banks do have a preoccupation to bring inflation down, and it is paramount because without price stability there is no sound foundation for investments and for growth. Their job has become more complicated because of the exposure of vulnerabilities in the financial sector. That means attention has to be paid to financial stability. Fortunately, they have different tools they can apply to deal with these two different problems. They can fight inflation by keeping interest rates higher for longer, and they can provide targeted liquidity should there be a need to bring down risks to financial stability. What we have seen is a remarkable, rapid and effective intervention by policymakers, primarily central banks, but not only financial authorities, supervisory authorities, regulatory authorities. Once there was a problem exposed, they acted swiftly. This is very different to what happened during the global financial crisis. So, there is something to celebrate. We learned a lesson, we acted on it.
However, when we looked into the future, the problem that you outlined, allocation of capital, it has to be recognized that without the confidence that productivity is going to go up, how does it go up? It goes up when there is effective investment in education, skills development, adaptability to changing labor market needs. It gets up when there is effective investment in research and innovation, and it goes into private sector performance. It doesn't stay locked into monopolies that only have access to these new discoveries. Productivity goes up when division of labor that trade provides is effectively energized. I do hope that as we have these Meetings to talk about the immediate pressing priorities of price stability and financial stability, we will pay more attention to how the world can go into a higher growth path. [Coughs] I apologize.
[David R. Malpass]
This is vital to the world. Getting the growth rate higher is important for people's jobs. It's important also for the migration patterns of countries. If we're in a world where people have to migrate to other countries in order to have access to capital, that is a challenge. They're being pushed by climate change, they're being pushed by their own countries having domestic debt problems, and so that pressure is substantial. So, I think there's an urgency to the policy changes.
Now, I want to inquire on one specific area. As the central banks raise interest rates, they've described it as a goal of reducing demand within the economy. I think there really has to be much more awareness that the long-term solution is through much greater supply, and that means short term financing for small businesses, for medium-sized businesses. Right now, somehow, we fell into a cycle, I think, over the last ten years, where the central banks were buying long-maturity assets, and that really fundamentally changed the direction of the world toward bigness. Governments can issue ten-year bonds, small businesses don't issue ten-year bonds. So, one of the things I hope we could do is really have a clear view on how do you get back to a world where short-term financing is available to businesses? We're not there.
[Kristalina Georgieva]
I very much agree with this, David. It matters to everyone. It matters a lot to emerging markets and developing economies. We know that in emerging markets and developing economies, if the small and medium-sized enterprises are suffocated, there is simply no way to generate the jobs a growing population demands in these countries. So that question of how we think about financing, accessibility to finance for everyone, especially for women-led business, is something that the World Bank has researched for quite some time. This is, again, on the list of issues that got pushed down because of this shock upon shock upon shock.
And I want to say we cannot finish this conversation without recognizing that one of these shocks, the senseless war in Ukraine, can go away by just a decision taken by the country that invaded Ukraine to stop the war. Why does that matter? Why does what we are discussing here matter? Because one, this war has distracted the world's attention from many other pressing problems. This war not only kills people, it is pushing up food prices, you talked about it, and it is creating more geopolitical tensions, pushing down the ability of the world to work as one. So, I want to recognize there is a problem there that these meetings cannot resolve, but it would help tremendously with the agenda we are discussing if it gets resolved.
[David R. Malpass]
It would. The horror of the war is ever-present, and the world's gone from the COVID-19 pandemic to now this also horrible development and outcome that is lasting longer and longer than people had hoped. We've been involved, as you know, in helping channel world resources to the civilian sector of Ukraine as a maintenance operation, and we're also looking at the recovery side of the Ukrainian economy. We're talking in shorthand, to an extent, because we see each other regularly and often talk about structural reforms and the upside opportunity that countries have if they can find stronger fiscal policy, stronger domestic...
[Kristalina Georgieva]
Domestic resource mobilization, yes.
[David R. Malpass]
That means taxes, but we look at systems to have a broader base for the taxes rather than higher rates, ways that allow the country, the people of the country, to have more economic activity. So that's the daily chores of World Bank and IMF, of how do we interact with Ethiopia, with Egypt, with Nigeria, with South Africa? Countries that are looking for a direction. With Turkey, and I didn't mean to mention just a few, with 100 countries around the world, how do we work together, really to find a path for the country that has better growth on the other side?
The challenge is the burdens keep adding up. The burden of debt, the burden of climate costs, the burden of the higher food prices, all of those add up substantially. So, we're at a bit of a liquidity crunch for the poorer countries, and also this longer-term problem of where do you get growth? We know where it comes from, productivity from new investment, but the stars aren't aligned right now to achieve that.
[Kristalina Georgieva]
Well, this is why it is good that twice a year we can all get together and then concentrate on what we can do by better coordination of our members and, of course, of our institutions.
I want to bring an element of positivism in this discussion. Yes, it is a very difficult time, but if we look back on what we have achieved over the last three years, three and a half years, it is a lot, David. One, we have managed to come together very early when COVID-19 hit, and collectively, the members themselves taking the appropriate policy actions, and our institutions financing those that had no access to other sources of financing, that managed to bring the impact of COVID-19 economically much further down than it would have been otherwise. I remember our first assessment of the risks of the COVID-19 crisis was 10% contraction of the world economy. That didn't happen, 3.1% is not nothing, but it is far from 10% contraction. I remember you and I discussing how we can coordinate actions on financial terms, how we got together. Our very first loan was to Kyrgyzstan, Kyrgyz Republic, one week after the WHO announced the COVID-19 Pandemic. Since then, we have financed 96 countries. Never in the history of the IMF have we done so much for so many, and we have done that together with you. We have recognized debt as a problem. I want to give you the credit for being such a strong voice, including your latest blog on behalf of countries that find themselves crushed by the burden of debt. We have called for the Debt Service Suspension Initiative, and now we are in these Meetings, David, and I am so very pleased. We can tell our audience we are not letting our guard down on this issue. We are going to have the Global Sovereign Debt Roundtable, bringing for the first time, all creditors, traditional, new, public, private, with the indebted countries and with us, the key institutions, so we can sit around the table and find solutions to what otherwise can be devastating for countries. So, we have done things together that would have been much less effective if we didn't have that platform. To everybody coming to the Meetings, roll up your sleeves, let's continue in that spirit of getting things done. And since this is the last time I have this pleasure of sitting with you at the start of the Meetings, David, what is your hope for the future? What do you see on the horizon for our institutions? What is the wisdom you would like to pass to all who are watching and, of course, to the grateful me?
[David R. Malpass]
That's awfully nice. I pick up the word wisdom, so I don't know if I can achieve that, but I'm going to share a little bit. I'm going to go from the small to the large. Four years ago, yesterday, I walked into the atrium here as President of the World Bank, and you were a mainstay of global development, then at the World Bank, now at the IMF, and one of our challenges was to try to find breakthroughs in countries. That was my hope. We always had the vision of how do we get better outcomes for people in developing countries? But then we recognized that a way to do that was to have individual breakthroughs or regional breakthroughs. Some new insight, whether it be in the area of currencies or of fiscal policy, or of trade policy or of infrastructure development. I'm still working to get breakthroughs. One of the ones we worked on early was Ethiopia. We saw that the dual exchange rate, they have an official exchange rate which is available to the few, and a parallel market exchange rate that is very expensive for the rest within the country. It has not worked very well. I went to Ethiopia early on in May of 2019. You went, I think, in August of 2019. We will again be tackling that in the Debt Roundtable and in our Meetings this week to see if there can be a breakthrough because the number of people's lives that are at stake is huge. I don't know, I didn't look it up, but Ethiopia may have 120 million people, it's a large number and growing. Creating a better future for them is both a macro challenge and then a micro challenge. Letting more imports and exports flow in and out through better systems is going to be vital for their growth and getting their living standards higher.
So, I wanted to start on, a lot of what we've done over my four years has been on specific countries and regions. How do you solve problems in various parts of the world? But then that has confronted this giant macro-overlay of the world of COVID-19, slow growth, rising interest rates, and Russia's invasion of Ukraine, all of that conspiring in a way to give not enough money for any of the goals that we have for people in developing countries. So, I feel good about it, it's been a very busy four years, and prior to that, at the US Treasury working on similar issues at a very rapid pace. I feel good about that, very good about the World Bank Group, all of our entities, but also worried, I guess I'll say frankly, about prospects for people in developing countries. There's not a good avenue. I like your point of optimism, we have technology, we have institutions that care, there's enough money in the world, there's enough capital in the world to make it work. But my concern is it's all absorbed into a small group and it's not working right now, and it takes some fundamental changes in order to make it work. It's been a pleasure working with you through these four years.
[Kristalina Georgieva]
I am very confident that solutions will be found. It is a matter of will, and then you find a way. I always remember in the context of these conversations, when we have a very steep mountain to climb, what Nelson Mandela once said, "Impossible until it is done." And I really look forward to engaging with our membership during this week, David, engaging with you, with our partners at the World Bank. Because if we can imagine a world in which the tremendous capital, the wealth that is created, is put for the bigger public good, in which we open up opportunities for everyone to reach their full potential, in which we deal with the tremendous challenge of climate change, then we can say, Mandela is right. All of these things that we discussed that are so difficult, impossible until they are done.
[David R. Malpass]
A great theme for our challenging week ahead, we each have 15 hard meetings. I don't know, you may have 25 hard meetings ahead this week, but with a clear goal, and so enjoy where you can, I'll try to do the same. We're launching our Week of Spring Meetings.
[Kristalina Georgieva]
Yes.
[David R. Malpass]
Great.
[Kristalina Georgieva]
And I can see that our gracious host is looking at us with this sign that says, your time is up.
[Noreyana Fernando]
Thank you for that fantastic conversation. Thank you, President Malpass, MD Georgieva, you have indeed provided us with some insightful context on the major issues that will be on your plate this week. With that, we come to the end of this event, but there is more to come. You can watch this replay as well as other events throughout the week on live.worldbank.org/springmeeetings2023. We hope you've enjoyed hearing from our distinguished guests today, but please continue your comments online with the hashtag #ReshapingDevelopment. We would love to hear from you. I'm Noreyana Fernando, and thank you for joining us.

Join us for a series of live events on today's pressing development challenges.
All the public events are live-streamed publicly in English with interpretation in Arabic, French and Spanish.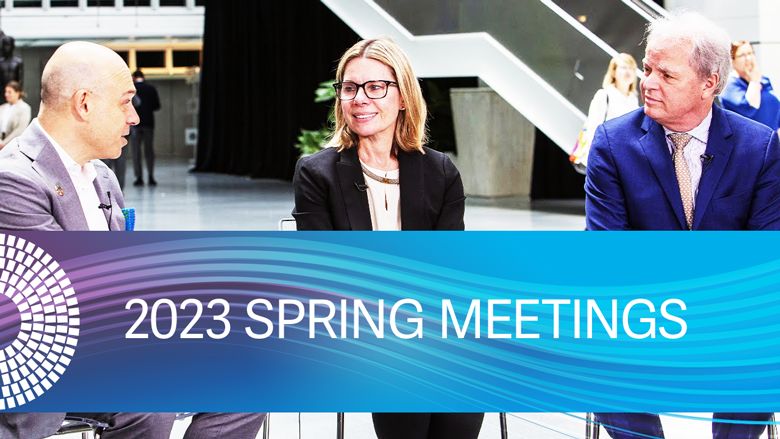 Throughout the Spring Meetings, The Zone provides a round-up of all the week's happenings.