Third Ministerial Roundtable Discussion for Support to Ukraine
Third Ministerial Roundtable Discussion for Support to Ukraine
ABOUT THE EVENT
AGENDA
TRANSCRIPT
GO TO: SPEAKERS  |  WATCH IN UKRAINIAN: УКРАЇНСЬКА
Now in its second year, Russia's invasion of Ukraine is a tragedy that is causing immense human and economic suffering in Ukraine and has serious regional and global repercussions. The international community stands united to support the people of Ukraine, including by providing critical humanitarian, recovery and reconstruction assistance.
The third ministerial roundtable took place on Wednesday, April 12th, co-chaired by the Government of Ukraine, the World Bank Group, and the International Monetary Fund, to discuss Ukraine's medium-term needs, essential recovery and reconstruction projects, and areas of international collaboration. 
00:00 Welcome
00:37 Remarks by Volodymyr Zelensky, President, Ukraine
09:06 Remarks by David R. Malpass, President, World Bank Group
12:00 Remarks by Denys Shmyhal, Prime Minister of Ukraine
18:56 Remarks by Kristalina Georgieva, Managing Director, International Monetary Fund
23:42 Remarks by Janet Yellen, U.S. Secretary of the Treasury
26:45 Closure
[David R. Malpass]
I want to welcome everyone. We're going to get started. I was waiting for Prime Minister Shmyhal, but let's go ahead. I want to thank and welcome everyone who's here and I see that President Zelensky is here. So, we are going to go straight into that, and then we'll have further comments as we go along. As you know, the conditions are immensely challenging. President Zelensky, please go ahead. Welcome. You have a big group assembled here.
[Volodymyr Zelensky]
Thank you very much. President Malpass. Thank you. Thank you for your support. Thank you very much. Managing Director, dear Kristalina, the vice-president Dombrovskis. All of us now are waiting for our Prime Minister [David R. Malpass laughs] and dear ministers, secretaries and heads of international financial institutions. Thank you. Thank you again. Thank you all for this meeting, for your work in this format. Ukraine is currently living through a storm of emotions.
Yesterday, a video of the brutal murder of our soldier by the occupiers was shared by Russian sources. They are there in this video proud with their ability to kill. You have probably all seen it on the news, and you know that the Russian army tries to make this level of violence and atrocities a routine everywhere on Ukrainian soil. Every time when they do something like this, one gets shocked, like for the first time. And death brought by Russia must not become a usual routine. The long story of Russian impunity must finally stop, and I thank everyone in the world and all of you who help Ukraine to survive. But every day, every day we'll lose our people, men and women, adults and children who die at the hands of Russia. Please, would you please, I ask you now to honor with a minute of silence the memory of the Ukrainian soldier whose death the war saw yesterday and the memory of all of our people whose lives were taken away by the Russian invasion. Please. [Pause] 
[Volodymyr Zelensky]
Thank you so much. Yes, thank you. Very important for all of us.
Dear participants of this meeting, Ukraine will prevail in this war. It is only a matter of time when Russian aggression is defeated. But the evil state should not have any chance to win with ruins. What is always the goal of a terrorist? To break life, if not to kill, to damage, if not to destroy, then to hurt. Any aggressor who hates life, whether he acts at a state like Russia or within a terrorist group or a single degraded individual. Any aggressor always enjoys when he destroys and when the ruins have to be repaired for decades. Thousands and thousands of facilities in Ukraine have been ruined. Thanks to the partners, most of their expenses for maintaining a normal life have been secured for this year, but the basic needs for reconstruction remain open. It's housing, energy, transport, social and humanitarian sphere, public services. Recently I visited the frontline regions and the regions of our country bordering Russia. It is so painful to see cities destroyed by terror, villages burned and fields, dead. Dead because they are mined. That's why supporting fast recovery is a part of the founded terrorist war. By rebuilding what has been ruined, we defeat the main goal of terror. We return their normal life.
The second point, the essence of the evil state. For the first time in history, the world has such a vast opportunity to change, to charge the aggressor with compensation for damages. The one who is guilty of the unprovoked and illegal war. For example, the World Bank provided a new assessment of the losses and needs of Ukraine. 411 billion dollars. Every day, Russia increases this account. The world has Russian assets of various types that cover such a level of losses. The world's potential aggressors are now looking. Will you do the right thing? It is realistic to confiscate Russia's assets as well as assets of persons connected with the ruling elite of the evil state. To confiscate and direct, so that life in Ukraine can be restored. Russia must feel the full price of its aggression.
Ladies and gentlemen, Ukraine makes two appeals to you. The first one, priority needs for reconstruction. And I thank you. Thank you for the new program with the IMF, which is an important stabilizing factor for Ukraine. Peace will help us continue to fight. But in order for people to return to Ukraine, for the aggressor to lose, not only on the battlefield, but truly in everything, we need the approval of the support program to cover the priority projects of fast recovery. The total volume of such projects is 14.1 billion US dollars. Our government officials who are now in Washington will present the details. And, ladies and gentlemen, the second one. It's necessary to work on concrete mechanisms for using frozen Russian assets to compensate for the damage caused by Russia. It must be clearly stated that the assets, including the assets of the Russian Central Bank, will be confiscated. It will be a peacemaking act on a global scale. Potential aggressors must see these and remember that the world can be stronger. There may be different formats of solutions, but the faster and more effective the solutions are, the more reliable and long-lasting peace after this war will be.
Ladies and gentlemen, there are no secondary frontlines in this war. All of them require attention and trust. The financial frontline in particular. We are doing our part, and I am grateful to everyone who helps. But the fundamental decisions are up to you, and I believe that they will be made. Thank you very much.
Glory to all those who are now fighting for life and freedom for our people. Slava Ukraini.
[Applauses]
[David R. Malpass]
Thank you very much, President Zelensky. And to Prime Minister Shmyhal and Minister Marchenko, we are very pleased to have you here today, and it's always a pleasure to be with Kristalina Georgieva, Managing Director of the IMF, and I have the World Bank team that's been so involved with the support effort here with me. The Russian invasion of Ukraine has entered its second year and continues to cause immense human and economic suffering and to have devastating repercussions for the global economy.
As the President mentioned, the damage assessment that we've done shows 411 billion dollars over the next ten years of needs. It's important that we focus on what Ukraine needs now. We estimate that for 2023 it is facing an additional funding gap of 11 billion dollars for critical economic and capital expenditures. To date, the World Bank has mobilized over 23 billion dollars for Ukraine in emergency financing, of which 20 billion dollars has been disbursed. This includes grants, guarantees and linked parallel financing from many of you here today from the United States, the United Kingdom, the European countries and Japan. This financing benefits from robust supervision mechanisms to see that the money is spent where it is intended. Some donor funds are being channeled through the Ukraine Relief, Recovery, Reconstruction, and Reform Trust Fund. That's a facility established to mobilize additional support. Through IFC, our private sector arm, we have disbursed about 150 million dollars to the private sector of Ukraine with support from donor partners throughout Europe, and we've committed to share risk with IFC. We intend to ramp this up to 2 billion dollars and mobilize an additional 1 to 2 billion from private partners. MIGA's Hiroshi Matano, here with me, has issued more than 116 million dollars in guarantees to Ukraine since the war began. It's critical to support the country's long-term growth through projects, interventions in sectors such as energy, infrastructure, transport, agriculture and human capital. Our investments will be accompanied by advice on policies and reforms and structuring viable projects which can mobilize private capital to help Ukraine on its path to a sustainable future. So, President Zelensky, our resolve to support you and the brave people of Ukraine remains unwavering. I now turn to Prime Minister Shmyhal. Prime Minister, welcome.
[Denys Shmyhal]
Thank you so much. Dear Mr. President, dear Mr. President of World Bank, dear David, dear Madame, Managing Director of IMF, dear Kristalina. Dear Madame Secretary, dear Janet. Dear Mr. Vice-President of European Commission, dear Valdis, dear friends from IMF team, distinguished vice prime ministers, ministers, CEOs, presidents, vice-presidents, dear friends, colleagues, dear partners, I want, dear ladies and gentlemen, I want to thank all of our partners, all of partner countries and international financial institutions who not only in word, but also, in deeds, prove their full support for Ukraine and give a decisive response to Russia's military invasion. We are grateful to our international partners for the already provided assistance and support to Ukraine in these difficult times. This assistance is unprecedented, and we greatly appreciate it.
But Ukraine's losses and expenses are unprecedented too. Due to martial law and heavy hostilities, we have a significant state budget deficit. We still need external support, both to cover the deficit of the state budget and for the subsequent recovery of the economy and reconstruction of our war-ravaged country, with the support of our international partners and donors. In this context, we are sincerely grateful to the team of the World Bank and the European Commission for the second addition of the rapid damage and needs assessment of Ukraine. Thank you for this. According to the second report, Ukraine's long-term needs for the reconstruction and restoration of the consequences of the first year of the war are estimated at 411 billion US dollars, as Mr. President said. Ukraine needs to attract urgently donor aid in the amount of 14 billion US dollars by the end of 2023. If international partners support the initiative of the World Bank, the European Commission and the UN, and are able to allocate these funds in a timely manner by the end of June 2023 in this context, I'm glad to note the fateful decision of the International Monetary Fund for Ukraine to approval on March 31, 2023 on a new four-year extended financing program, EFF, for our country with a total amount of 15.6 billion US dollars. Thank you for this and I also thanks to G7 countries who support long-term program of support Ukraine in amount 115 billion dollars for the next years. It's crucially important for my country in sense of macroeconomic stability and in sense of signal to Russian Federation that our partners are with us as long as it's needed. And this proved this.
Dear friends and partners, I would also like to note that we hope for your government's support of the multilateral trust fund mechanism created by the World Bank, Ukraine Relief, Recovery, Reconstruction and Reform Trust Fund, URTF, within the frameworks of the Fund's restoration projects in the fields of transport, infrastructure, Repairing Essential Logistics Infrastructure Network Connectivity projects [RELINC], electrical energy, repower projects and healthcare Heal Ukraine projects, which are already being implemented. Thank you for this and thanks all partners who support these projects. Special gratitude to the United States of America, which, during the year of the war has already provided Ukraine with grant support in the amount of more than 15.5 billion and will provide another 7.4 billion by the end of 2023 to support the activities of the government and socially vulnerable sections of the population. PEACE projects. All peace projects. Thank you. It also is very and very effective.
We understand the interest of development partners in receiving detailed information on the directions and effectiveness of the use of funds directed to providing assistance to Ukraine. We are completely open and transparent in matters of financial support. Provide all requested information to the World Bank and to the US, and the administration to IMF. We are ready to provide even more detailed information. Our ministry of finances is working on a daily basis, sending all needed reports. The restoration of Ukraine will become one of the largest investment projects in the history of Europe. But we now should pay the crucial attention to the rapid needs and recovery. I mean, 14.1 billion, which is estimated by the World Bank. This is the number one priority for my country, to bring people minimal level of social and humanitarian services. Part of this money we have in our budget, part we have from the United States and the European Union. We are grateful for this, but the rest, it's more than half of this amount we need to collect not later than first half of this year to have time to invest this money in social infrastructure and critical infrastructure. We hope that thanks to the continued support of our international partners, we will ensure the reconstruction of our country and the restoration of the national economy in a short period of time. Sincerely thank all governments and all countries that help Ukraine and the Ukrainians, all the financial organizations, World Bank, IMF, all of our partners, we hope for our further fruitful cooperation. Together we will win, no doubt. Thank you for your attention and thank you for your support, crucial support. Thank you so much. Thanks.
[David R. Malpass]
Thank you, Prime Minister. Now, Kristalina Georgieva, Managing Director of the IMF.
[Kristalina Georgieva]
Thank you, David. And so wonderful to hear from President Zelensky, from Prime Minister Shmyhal to be right next to Minister Marchenko. A lot has happened since we met in October. Russia carried devastating missile attacks on critical infrastructure in Ukraine, causing loss of lives and tremendous hardship. Despite these attacks, the economy is working, and the government is fully functional delivering vital services to businesses and to households. Shops are open, people are going to work, banks are operating, companies and households are paying taxes. Minister Marchenko collected 36% of GDP in taxes last year. I saw in Irpin, a wastewater treatment plant bombed by the Russians, fully restored and freshly painted. Victory of civility over evil. I saw how digital technology makes access to social and administrative services easier than before the war. Most businesses have fully restored their activities. Some are expanding, thanks in part to the rapid restoration of power, water and heat after Russian attacks.
The country is performing remarkably well under the most devastating of circumstances, and that is why it has the confidence of its people, and it has the confidence of the international community. I'm proud that the IMF is part of this international support. I'm very grateful for the work we have done together to have a robust program under the Extended Fund Facility. As we heard from Prime Minister Shmyhal, 15.5 billion from the IMF, putting together a framework for four-year support of 115 billion dollars. What we are achieving is one, predictability, and those here around this work, around this table, make it possible. I remember how in the first weeks when the war started, Ukraine would be struggling to get the next couple of weeks financed. Now, we have a framework for four years. Second, it is a program that is very rich on how the country can build a foundation for the future, sustaining economic and financial stability, critical reforms to promote growth, advancing the accession to the European Union. Third, it is providing a framework for private investments and that, when I listen to the private sector people in Ukraine, is so uplifting. And fourth, we are very happy to work with the Bank because within macro-stability, we can find space for financing reconstruction, and this is what the meeting today is all about.
I want to finish with a picture that I would carry with me for as long as I live. In Kyiv, in a makeshift school, a kid has drawn a tank. Kids should not be drawing tanks. They should be drawing flowers. And I know that we will bring it to that point, that peace will prevail. And this is what we see Ukrainian children doing. Thank you.
[Denys Shmyhal]
Thank you so much.
[David R. Malpass]
Thank you, Kristalina. That's a vivid image. US Treasury Secretary Janet Yellen.
[Janet Yellen]
President Zelensky. Prime Minister Shmyhal. Minister Marchenko. It's good to see you. During my trip to Kyiv in February, I witnessed first-hand the brutality of Russia's illegal war. I also saw the resilience of the Ukrainian people. Your government has provided a steady hand for Ukraine amid Russia's horrific war. Economic activity is recovering under difficult conditions and critical government services are being delivered. I commend your ongoing focus on good governance and anticorruption your commitment to making sure that international assistance is being used responsibly is essential. The United States is proud to have provided significant budget support since Russia's invasion. We have current plans to provide additional aid through September, all as grants, as well as to provide support for energy security and early recovery. I thank the World Bank for safeguarding and facilitating disbursements and the European Bank for Reconstruction and Development, for being an implementation partner. Supporting Ukraine is a collective effort. We welcome the efforts by our allies and partners to provide significant, predictable and timely assistance and urge all of us to continue doing so.
The World Bank's update to its rapid damage and needs assessment underscores Ukraine's needs. Just as military assistance provides for the front lines, our economic assistance bolsters the home front. It keeps the government and economy running so Ukraine can continue to defend itself. The new IMF program will anchor our support in a sound macroeconomic framework and catalyze further reforms essential to Ukraine's recovery. Meanwhile, our historic multilateral sanctions coalition is restricting Russia's access to the technology and equipment it needs to supply its military. With our embargoes and price caps on Russian oil and refined products, we're effectively targeting Russia's key source of revenue while maintaining stability in global oil markets. Russian state revenue from energy taxes is down over 40% since the imposition of the price cap compared to last year. We're proud to stand with Ukraine and as President Biden has said, the United States will do what it takes to support Ukraine for as long as it takes.
[David R. Malpass]
Thank you, Secretary. This ends the open session, and we'll take a moment and go to the closed session. Then there's a speaking order, which Anna will be looking for.

Join us for a series of live events on today's pressing development challenges.
All the public events are live-streamed publicly in English with interpretation in Arabic, French and Spanish.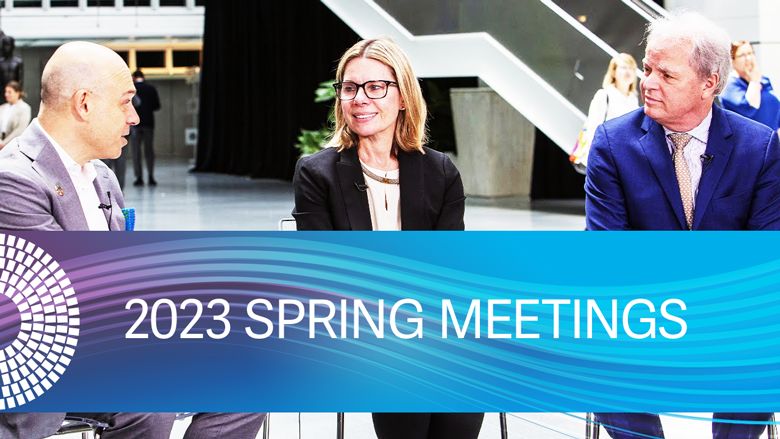 Throughout the Spring Meetings, The Zone provides a round-up of all the week's happenings.