COVID-19: Vaccines for Developing Countries
COVID-19: Vaccines for Developing Countries
---
---

(
Download the event transcript .txt)
About the Event: 
The rollout of COVID-19 vaccines in developing countries is critical to protecting lives, building human capital, and stimulating economic recovery. The current crisis is exacerbating inequalities throughout the world and, without access to vaccines, the gap will widen further.
This event begins with voices of youth from around the world reflecting on the impact of the pandemic and their hopes for a speedy recovery with a return to school, friends, and family.
World Bank Group President David Malpass then describes what vaccines mean for the world, what needs to be done to accelerate production and ensure safe and effective distribution to developing countries, and the importance of collaboration amongst all stakeholders for a sustainable and inclusive recovery. Read More
A high-level panel featuring Dr. Tedros Adhanom Ghebreyesus, Director-General, World Health Organization, Henrietta Fore, Executive Director, UNICEF, and Axel van Trotsenburg, Managing Director, World Bank explores the need for global solidarity in the battle against the pandemic and the work currently underway with developing countries to prepare for vaccine rollouts.
Gwen Hines, Executive Director of Global Programs, Save the Children International makes the case for the fair and equitable distribution of vaccines to all vulnerable people, wherever they live. Dr. Esperanza Martinez, Head of COVID-19 Crisis Team at ICRC, calls for us to focus on our shared humanity as we strive for vaccinations for all. In an interview with Dr. Seth Berkley, CEO, GAVI, we learn how COVAX was set up to help low- and middle-income countries access vaccines.
Frontline health workers from around the world share the challenges and their hopes for a successful vaccination program in their country, reflecting on what it will mean for them and their patients.
The important role the private sector is playing in driving innovation, production, and manufacturing to meet the enormous needs for vaccines, tests, and therapeutics is discussed with Jérôme Thill, Deputy CEO, Cerba Healthcare and Makhtar Diop, Managing Director, IFC.
In the final panel, we look to the future. In a discussion on the lessons from the pandemic that might help improve resilience and help countries better prepare for future shocks, Mari Pangestu, Managing Director, World Bank is joined by Ngozi Okonjo-Iweala, Head, World Trade Organization, Richard Hatchett, CEO, Center for Epidemic Preparedness Innovations, and Gro Harlem Brundtland, Co-Chair, Global Preparedness Monitoring Board. Read Less

This event replay is available with captions in multiple languages. You can select the language of your choice in the video above OR you can use the following links to watch the event with translated audio in Arabic, French and Spanish.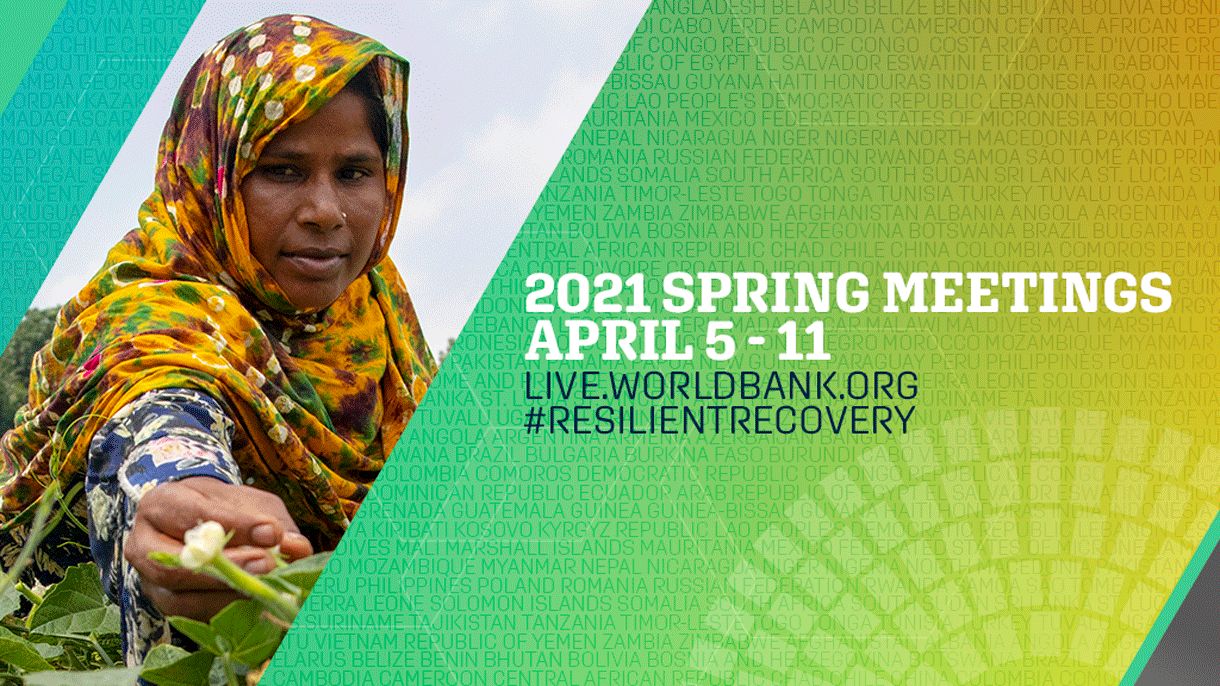 Watch the full replays of the Spring Meetings 2021 World Bank Group public events
Watch More Events on COVID-19 Vaccines