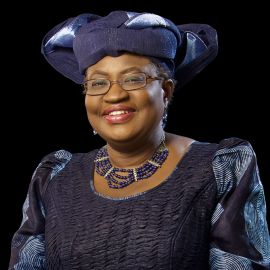 Ngozi Okonjo-Iweala
Director General, World Trade Organization
Featured on:
Dr. Ngozi Okonjo-Iweala is the Director General of the World Trade Organisation (WTO). She is an economist and international development expert with over 30 years of experience. She was Chair of the Board of Gavi, the Vaccine Alliance (2016 – 2020), the African Risk Capacity (2014 – 2020) and Co-Chair of The Global Commission on the Economy and Climate.  Previously, she served as Senior Advisor at Lazard and sat on the Boards of Standard Chartered PLC and Twitter Inc. Dr Okonjo-Iweala was appointed as an AU COVID-19 Special Envoy and WHO COVID-19 Special Envoy.
Dr Okonjo-Iweala served twice as Nigeria's Finance Minister (2003-2006, 2011-2015), the first woman to hold the position, and spent a 25-year career at the World Bank rising to the No.2 position of Managing Director.
In 2020 Dr Okonjo-Iweala was named Forbes African of the Year. She has been ranked by Fortune as one of the 50 Greatest World Leaders (2015) and by Forbes as one of the Top 100 Most Powerful Women in the World consecutively for four years. She holds a Bachelor's in Economics from Harvard University and a PhD from the Massachusetts Institute of Technology.
Read more
Stay connected
Past Events featuring Ngozi Okonjo-Iweala