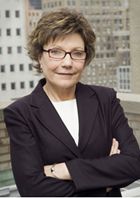 Deborah Amos
Correspondent, National Public Radio
Featured on:
Deborah Amos covers the Middle East for NPR News. Her reports can be heard on NPR's award-winning Morning Edition, All Things Considered and Weekend Edition.
In 2003, Amos returned to NPR after a decade in television news, including ABC's Nightline and World News Tonight and the PBS programs NOW with Bill Moyers and Frontline.
A member of the Council on Foreign Relations, Amos is also the author of Eclipse of the Sunnis: Power, Exile, and Upheaval in the Middle East (Public Affairs, 2010) and Lines in the Sand: Desert Storm and the Remaking of the Arab World (Simon and Schuster, 1992).
Read more
Past Events featuring Deborah Amos