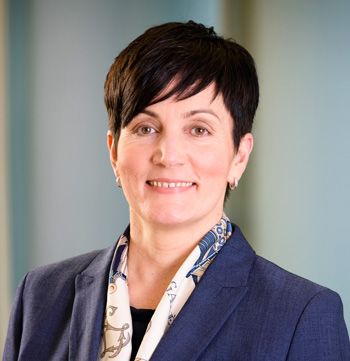 Stephanie von Friedeburg
Senior Vice President, Operations, IFC
Featured on:
Ms. Stephanie von Friedeburg serves as the first Senior Vice President, Operations, at IFC. She most recently stewarded the institution in the midst of the pandemic and led the implementation of IFC's strategy to create projects, attract private investment, and ultimately support a resilient and inclusive recovery in emerging markets.
Ms. von Friedeburg currently leads all IFC investment operations and advisory services, aiming to address key development challenges and create jobs and opportunities in the world's poorest and most fragile countries. In addition to overseeing new business, she manages IFC's $60 billion debt and equity portfolio in more than 100 countries. Her priorities include increasing opportunities for women, scaling up investments to fight climate change, and promoting digital development.
Ms. von Friedeburg's career spans almost three decades in the World Bank Group. She started at IFC, where she also served as the first Chief Operating Officer, and has spent more than two decades in investment operations, developing strong expertise in Africa and Central and Eastern Europe, as well as in numerous industry sectors, including telecom, media, general manufacturing, and mobile technology. With extensive experience in business development, execution of transactions, and portfolio management, Ms. von Friedeburg has helped increase IFC's development impact in emerging markets, including through the growth of mobile technology in the developing world and IFC's first large financings in Russia and Eastern Europe in the post-Soviet era.
Ms. von Friedeburg also served as IFC's Chief Strategy and Resources Officer, where she led the development of IFC's new strategy and aligned the organization's resources to support its mission. Prior to this, leveraging her more than 10 years of experience investing in telecom and IT start-ups in emerging markets, she served as the World Bank Group Chief Information Officer, transforming the Group's IT operations and better equipping it to fight poverty in the 21st century.
Ms. von Friedeburg is an advocate for the advancement of women and a champion of diversity and inclusion, serving as Co-Chair of IFC's Diversity & Inclusion Council, and founding women's networks at two international finance institutions.
Ms. von Friedeburg holds a seat on the Global Business Initiative External Advisory Board for Georgetown University's McDonough School of Business, as well as on the CIO Advisory Board for Greylock Partners. She is Director Emeritus of the Board of the Bank Fund Staff Federal Credit Union and has also served as a member of the World Economic Forum's Global Future Council on Digital Economy and New Value Creation.
In addition to an MBA from the Wharton School, Ms. von Friedeburg holds a Master of Arts from the Lauder Institute at the University of Pennsylvania and an undergraduate degree from the School of Foreign Service at Georgetown University.
Read more
Stay connected
Past Events featuring Stephanie von Friedeburg