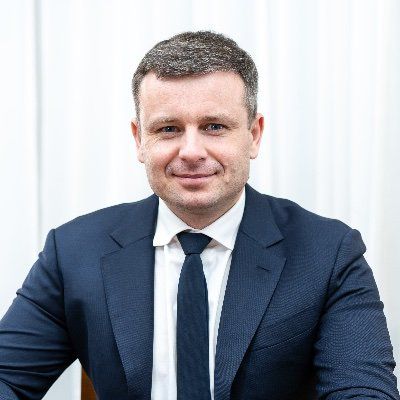 Sergii Marchenko
2023 Annual Meetings Chairman and Minister of Finance of Ukraine
Featured on:
Sergii Marchenko graduated from the Academy of State Fiscal Tax Service of Ukraine in 2002. During his studies Mr. Marchenko received Presidential Scholarship and achieved Master's Degree in Public Finance Management. Later on, he conducted research at the Scientific and Research Financial Institute of the Ministry of Finance and thus, in 2009, received PhD in Economics.
Starting from 2002 Mr. Marchenko worked on several positions in the Ministry of Finance, State Fiscal Service, Finance and Banking Committee and Cabinet of Ministers Secretariat.
In 2011 Mr. Marchenko began his work at the Presidential Coordination Center of Reforms Implementation. He participated in Budget Code development. The Code was adopted in 2014. This Code is important particularly because of fiscal decentralization reform. Mr. Marchenko coordinated the preparation of a package of legislative bills aimed at changing the budgeting and improvement of autonomy of healthcare institutions.
Mr. Marchenko also worked as an expert of Bendukidze Free Market Center and as academical director of the joint KSE and GIZ program «Leadership in Public Finance» in years 2015-2016.
During 2016-2018 Mr. Marchenko worked as Deputy Minister of Finance. Later, until May 2019 he worked as a Deputy Head of Administration of the President of Ukraine.
Appointed Minister of Finance on the 30th of March 2020.
Sergii Marchenko chairs the Boards of Governors of the World Bank and the International Monetary Fund in 2023.
Read more
Stay connected
Past Events featuring Sergii Marchenko