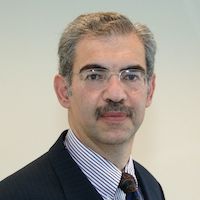 Santiago Levy
Nonresident Senior Fellow, The Brookings Institution
Featured on:
Santiago Levy is a nonresident senior fellow with the Global Economy and Development Program at Brookings. He was previously president of the Latin American and Caribbean Economic Association. From 2008 to 2018 he was the vice president for sectors and knowledge at the Inter-American Development Bank. From 1994 to 2000, he served as the deputy minister at the Ministry of Finance and Public Credit of Mexico.
He has also held the following positions: general director, Mexican Social Security Institute: Dec 2000–Oct 2005; president, Federal Competition Commission: Jun 1993–Dec 1994; director for deregulation, Ministry of Industry and Trade: Feb 1992–Jun 1993; associate professor of economics (tenured), Boston University: Sept 1989–May 1993; director, Institute for Economic Development, Boston University: Sept 1989- Aug 1990; assistant professor of economics, Boston University: Sept 1983–Aug 1989; visiting researcher, Cambridge University: Jan-Dec 1981; economics professor, Instituto Tecnológico Autónomo de México: Feb 1979-Dec 1982.
At the Ministry of Finance, he was the main architect of Progresa-Oportunidades, Mexico's incentive-based health, nutrition, and education program for the poor; managed the transition from generalized to targeted subsidies; promoted legal reforms to decentralize resources to states and municipalities; participated in the change of the pay-as-you-go to the capitalized pension system; promoted a regional plan to develop Mexico's southern region; and drafted and negotiated six budgets with the Federal Congress. At the Social Security Institute, he promoted legal changes to reform pensions and extend coverage to rural workers; was responsible for the provision of health services to 45 million people, introducing preventive health programs and electronic medical records; managed pensions for 2.5 million people and day care centers for 230,000 children; managed $8 billion in reserves; and collected annually $20 billion in social security contributions. In 1993, he led the work to draft Mexico's first antitrust legislation to regulate mergers and punish anticompetitive business practices, and served as the first president of the Federal Competition Commission.
Read more
Past Events featuring Santiago Levy