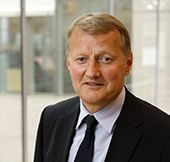 Rune Bjerke
Group Chief Executive, DNB
Featured on:
Rune Bjerke took up the position as group chief executive of DNB in January 2007. He was formerly president and CEO of Hafslund ASA, and has also been president and CEO of Scancem International.
Rune Bjerke has held a number of board positions in large companies. He has also served as finance commissioner of the Oslo City Council and as a political adviser in Norway's Ministry of Petroleum and Energy.
Rune Bjerke holds an economics degree from the University of Oslo and a master's degre in public administration from Harvard University.
Read more
Past Events featuring Rune Bjerke