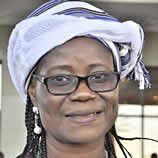 Rosine Sori-Coulibaly
Minister of Economy, Finance, and Development for Burkina Faso
Featured on:
Rosine Sori-Coulibaly was named the Minister of Economy, Finance, and Development for Burkina Faso in January 2016.
Prior to this, she has held positions in the Ministry of Economic Planning and Development, the Social and Economic Council, and lectured at Burkina's National School of Administration. In 2011, United Nations Secretary-General Ban Ki-moon appointed Sori-Coulibaly as Deputy Special Representative of the United Nations Office in Burundi and United Nations Resident Representative and Humanitarian Coordinator for Burundi. She also served the United Nations in various capacities in Benin, Togo, and Mauritania.
Sori-Coulibaly holds a master's degree in development economics from Senegal's Cheikh Anta Diop University and a postgraduate degree from the United Nations Institute for Economic Development and Planning.
Read more
Stay connected
Past Events featuring Rosine Sori-Coulibaly