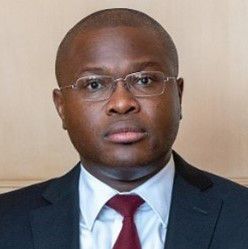 Romuald Wadagni
Minister of Economy and Finance, Senior Minister of State, Benin; World Bank Governor
Featured on:
Romuald Wadagni, Minister of Economy and Finance for Benin, also serves as a World Bank Governor. Previously, he worked as a partner and CEO of Deloitte France and Deloitte Democratic Republic of Congo (DRC). 
Wadagni graduated from the Harvard Business School and from Ecole Supérieure des Affaires of Grenoble, France. He is a Chartered Accountant in France and a Certified Public Accountant in the United States. 
Prior to his appointment as minister, he had accumulated 17 years of expertise in French (Paris and Lyon), American (Boston and New York) and African (RDC) firms in Deloitte, as Director of Quality and Risk for all Deloitte subsidiaries in French-speaking Africa from 2007 to 2016. He participated in the structuring of Deloitte's activities in Ivory Coast, Senegal, Benin, Gabon, Congo, Equatorial Guinea, DRC, Morocco, Algeria and Tunisia.
In 2016, as Benin's Minister of Economy and Finance, he tackled the consolidation of public finances and management of the wage bill, following debts contracted by the previous regime. He led the country to its first bond loan of €260m in international markets. He was appointed as one of top 100 African personalities who are transforming Africa in 2018 by the financial and economic magazine Financial Afrik. He was also recently designated as Minister of Finance of the Year in a top five ministerial that includes Ethiopia, Senegal, Ghana, and Côte d'Ivoire.
 
Read more
Stay connected
Past Events featuring Romuald Wadagni