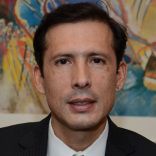 Norman Loayza
Director of the Global Indicators Group, World Bank
Featured on:
Norman Loayza is Director of the Global Indicators Group in the Development Economics Vice-Presidency of the World Bank. From 2015 to 2020, he led the Asia hub of the Development Research Group. He was director of the World Development Report 2014: Risk and Opportunity – Managing Risk for Development. He joined the World Bank in 1994 and served most of his career in the Development Research Group. His research covers various areas of economic and social development, including economic growth, macroeconomics, and the business environment.
For the World Bank, he has conducted advisory engagements across different topics and regions, for example business environment in Latin America; labor markets in the Middle East and Northern Africa; and pro-poor growth in South East Asia. On external service from the World Bank, he was a Senior Economist at the Central Bank of Chile, where he advised on financial and monetary policy.
Mr. Loayza holds a Ph.D. in Economics from Harvard University. He has edited 10 books and published nearly 50 papers in professional journals and edited volumes.
Read more
Stay connected
Past Events featuring Norman Loayza