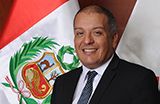 Milton von Hesse
Minister of Housing, Construction and Sanitation, Peru
Featured on:
The Minister of Housing, Construction and Sanitation, Milton von Hesse, is an economist from the Universidad del Pacífico (Pacific University), and has a master degree in Economics from Georgetown University (ILADES Program / Georgetown).
He has been Minister of Agriculture and Irrigation from July 2012 to February 2014. Prior to that he was Executive Director of ProInversion, and from 2009 to 2012 served as a professor, researcher and Director of the Masters in Public Management at Universidad del Pacífico as well as professor at the University of Chile and Esan. He also studied food economics and development economics in Spain, Japan and England.
Von Hesse has been consultant for different international organizations such as the World Bank, IDB, IFAD, FAO, GTZ, ECLAC, IICA, UNDP, CAN, among others. He is the author of several publications on agriculture and rural development.
Read more
Past Events featuring Milton von Hesse