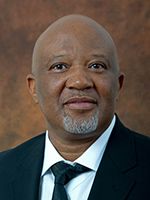 Mcebisi Hubert Jonas
Deputy Minister of Finance, South Africa
Featured on:
Born in 1960 in the Eastern Cape province of South Africa, Mr Jonas is a born activist that got involved in in anti-apartheid politics from the age of 14. He led a number of political activities in the Port Elizabeth area and launched underground structures aligned to the African National Congress in the Eastern Cape and beyond.
He was later sent to exile in Angola and Uganda. While in exile he was employed by the United Nations to run an education program for the cadres of the ANC movement. Upon his return to South Africa in the 1990's, he was instrumental in establishing the ANC structures in the Eastern Cape. At the dawn of democracy in 1994, he played a key role in setting up the new Provincial administration in the Eastern Cape. He has served the ANC government in various positions before being appointed Deputy Minister of Finance in 2014.
He holds a Bachelor of Arts in History & Sociology at Vista University. He furthered his studies with a Higher Diploma in Education at Rhodes University.
Read more
Past Events featuring Mcebisi Hubert Jonas