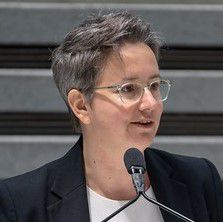 Kelly Widelska
Economic Inclusion Advisor for the Gender and Economic Inclusion Group, IFC
Featured on:
Kelly Widelska is currently an Economic Inclusion Advisor for the Gender and Economic Inclusion Group at the International Finance Corporation (IFC), a member of the World Bank Group and the largest global development institution focused on the private sector in emerging markets.
She has been an Inclusion Advocate and Network Leader for 15+ years. She has advised leadership and lead resource groups to identify gaps in policy & procedures and has delivered programs that have improved workplace inclusion. Kelly is also a member of the World Bank Groups Sexual Orientation and Gender Identity (SOGI) Task Force and the World Bank Task Force on Disability.  These are multi-sectoral groups set up to advance specific inclusion issues and to scale-up research, programs, and staff training.
Kelly was previously the Global Head of Knowledge & Learning for IFC, providing knowledge and learning solutions across the Corporation. Before joining IFC, she worked with EY's Transaction Advisory Services practice, where she led the Global Knowledge & Innovation Team.
Kelly holds a Masters degree in Information Management from Sheffield University in the UK.
Read more
Stay connected
Past Events featuring Kelly Widelska