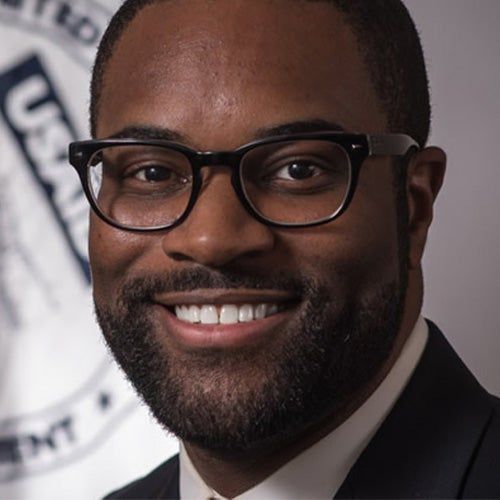 Jay Gilliam
Senior LGBTQI+ Coordinator, USAID
Featured on:
Jay Gilliam (he/him/his) is the Senior LGBTQI+ Coordinator at USAID. Jay serves as the Agency's lead to elevate issues concerning lesbian, gay, bisexual, transgender, queer, intersex, and other people of diverse genders and sexualities (LGBTQI+). In this role, he works to meaningfully integrate LGBTQI+ people into USAID's inclusive development programs, policies, research and training. Most recently, he was the Engagement and Communications Advisor in the Center for Education at USAID.
Previously, Jay served as the Director of the Global program at the Human Rights Campaign (HRC). During his time at HRC, Jay successfully organized four annual Global Innovative Advocacy Summits, created an active alumni network of 180+ advocates from over 90 countries, and trained dozens of advocates from every region of the world on LGBTQ advocacy.
He served in the Obama administration at USAID where he worked on program policy, public engagement and communications, particularly on the Agency's LGBTQI+ and food security work. Jay also worked at the Aga Khan Foundation U.S.A. in Washington, DC and Peace Boat Japan in Tokyo.
Jay grew up in Arlington, Texas before leaving the Lone Star state for Amherst College in Massachusetts to get his B.A. in political science. He did his graduate studies on a Rotary Fellowship, earning an M.A. in peace studies at International Christian University in Tokyo, Japan.
Read more
Stay connected
Past Events featuring Jay Gilliam