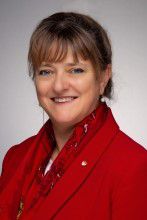 Isabelle Bajeux-Besnainou
Dean of the Desautels Faculty of Management
Featured on:
Dr. Isabelle Bajeux-Besnainou has served as Dean of the Desautels Faculty of Management at McGill University since September 2015.
Under her leadership, the Faculty has launched a Master of Management in Finance, a Master of Management in Analytics, a series of interdisciplinary minors in Entrepreneurship for undergraduate students, and program offerings in data analytics at several levels. Dean Bajeux-Besnainou has also led strong efforts in the hiring of professoriate and managed the expansion of the Faculty's physical facilities. Most recently, she spearheaded the creation of the innovative Bensadoun School of Retail Management, dedicated to the future of retail. The School will build on the University's strengths in management, AI, sustainability, agriculture, and science, among others.
Prior to joining Desautels, Dean Bajeux-Besnainou was Associate Dean of Undergraduate Programs at the George Washington University School of Business for three years after serving as the Chair of the Finance Department. During this time, she developed a new Bachelor of Science degree program and reformed the Bachelor of Business Administration.
Dean Bajeux-Besnainou is an alumna of the École Normale Supérieure (ENS) Paris in Mathematics and earned a doctorate in Mathematics Applied to Finance in 1989 from Université Paris-Dauphine.
Dean Bajeux-Besnainou is currently Co-Chair of the Global Council on the Future of Consumption for the World Economic Forum. 
Read more
Past Events featuring Isabelle Bajeux-Besnainou