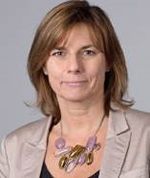 Isabella Lövin
Minister for International Development Cooperation, Sweden
Featured on:
Isabella Lövin became cabinet minister in October 2014. Acclaimed journalist and author until 2009, she then became an elected member
of European Parliament representing the Green Party, where she served until becoming minister. As the leading member of the Greens in the EP's Fisheries and Development Committees, she was involved in the reform of the EU Common Fisheries Policy and has pushed to increase the EU's role in fighting illegal fisheries globally.
Since 2015, Lövin has served as co-chair of the International Dialogue on Peacebuilding and Statebuilding, created in 2008 to develop a set of peacebuilding and state-building objectives and an action plan for effective engagement in fragile states. Lövin has also just returned from a visit to South Sudan, meeting with internally displaced persons and visiting the Juba Teaching Hospital, where Sweden has financed a new program for midwives.
Read more
Past Events featuring Isabella Lövin