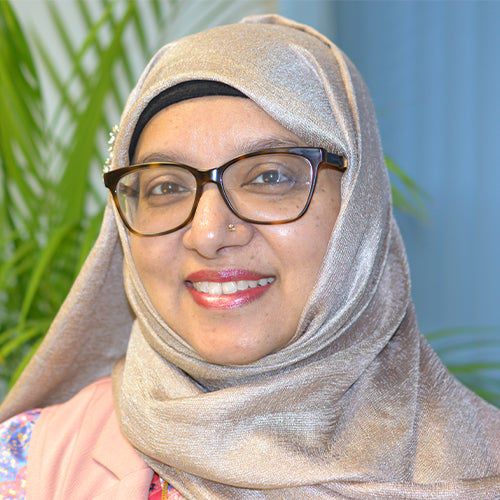 Husna Ahmad
CEO, Global One 2015
Featured on:
Dr. Husna Ahmad OBE is the CEO of Global One 2015, a faith-based international NGO focused on women. She is the former Group CEO of Faith Regen Foundation, a multi-faith UK charity.
Dr. Ahmad is a board member of Faith for the Climate, Faith in Water, and Palmers Green Mosque. She is also a member of the Women's Faith Forum UK and executive committee member of Barnet Faith Forum.
She is a co-chair of the Multi-faith Advisory Council to the UN Inter-agency Task Force on Religion and Development and sits on the Steering Committee of The World Bank's Moral Imperative Initiative.
She is an author and thought leader who has presented many papers internationally focusing particularly on faith and the environment.
She is the Secretary-General of the World Muslim Leadership Forum and the Coordinator for the Alliance of NGOs and CSOs for South-South Cooperation which works in collaboration with the UN office of South-South Cooperation. She was appointed an Officer of the Order of the British Empire (OBE) in the New Year's Honours list in 2010 for her services to disadvantaged people and her work promoting social justice with disadvantaged communities.
She is a member of the Advisory Board of the Faith Leaders Training Initiative under the UK Minister of Housing, Communities and Local Government.
She earned a doctorate in international environmental law from the School of Oriental and African Studies, London University, and is an honorary fellow of the Edward Cadbury Centre for the Public Understanding of Religion, Birmingham University.
Read more
Stay connected
Past Events featuring Husna Ahmad