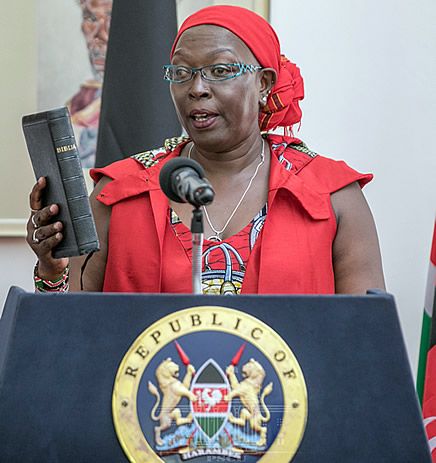 Hon. Betty C. Maina
Cabinet Secretary, Ministry of Industrialization, Trade and Enterprise Development. Republic of Kenya
Featured on:
The Cabinet Secretary, Hon. Betty C. Maina, CBS brings a wealth of experience and professional capability built over two decades of engagement with top-notch public and private sector organizations.
She has more than 27 years' experience in organizational leadership and development, with an ability to prepare and implement strategic business plans and mobilize resources for implementation, traits that place her at a strategic position to effectively lead the coordination of Industrialization, Trade and Enterprise Development in Kenya.
Hon. Maina has served as the Principal Secretary in the Ministry of Environment and Forestry, State Department for industrialization, and State Department of East African Affairs. She has also served as the Chief Executive of the Kenya Association of Manufacturers for 11 years (between June 2004–July 2015), where she not only oversaw the doubling of membership of the association, but also established seven satellite offices to compliment the services offered at the national office. Ms. Maina was behind the successful implementation of the association's strategic plan, resource mobilization and fundraising and oversaw its revenue increase from Kshs 24 million to Kshs 400 million annually within her ten year stewardship.
Hon. Maina also has keen interest and experience in Trade Policy, Regional Integration, Private Sector Development, Industrial Development, Public Private Dialogue, Business and Society, Sustainable Development, Integrated development, Education, Corporate Sustainability, Government Relations and Advocacy.She attained a Master of Science Degree in Development Administration and Planning from the University College of London in 1998, having studied Land Economics at the University of Nairobi where she attained her undergraduate degree in 1988.
She has also undertaken short courses in several key areas, among them Budgeting and Financial Management (Harvard University), Developing Anti-Corruption Strategies (World Bank, Washington), Gender and Development Planning (University College of London), and the Role of Public Policy in Private Sector Development (Strathmore University College), to name just a few.
Regional integration, industrial development, private sector development, good governance and sustainable development are at the heart of Ms. Maina's strategic approach to business, and her new role of coordinating EAC affairs in Kenya may not present a big challenge, going by her experience and trainings. Her achievements has earned her the Kenyan presidential honor in 2013, giving her the title: Moran of the Order of the Burning Spear (MBS).
Ms Maina's active professional journey started in 1997 when she became Chief Executive of the Institute of Economic Affairs in Kenya (IEA), an independent policy think-tank and advocacy, promoting public awareness on policy issues and advocating for the institution of socially responsive economic reforms, a position she held until 2003.
Between 1996 and 1997, she was a consultant, Local Government Reform Program in Kenya, and formed part of a team investigating and suggesting alternative resource base enhancement for local authorities in Kenya, and which carried out revenue potential studies for Kisumu, Nakuru, Naivasha and Kakamega municipalities.
She was also team leader in programme initiation for the Migori Integrated Urban Development Programme between 1994 and 1996, and led a team that used participatory approaches to initiate an integrated urban development programme in the town. During the same period, Ms Maina was also Gender Advisor, Arid and Semi-Arid Programmes in (then) Keiyo and Marakwet districts (now Elgeyo Marakwet County).
She was Research Assistant, United Nations Center for Human Settlements (UN/Habitat) between 1991 and 1993, having served as Assistant Project Officer, Shelter Afrique (1990-91) where she initiated the company newsletter, ShelterNews.
Prior to joining the State Department, Ms Maina was the Director of her consultancy firm: BECEM Solutions and East Africa Regional Representative of Genetics: Analytics, an economic consulting group with offices in Nairobi, New Delhi and Johannesburg.
Read more
Stay connected
Past Events featuring Hon. Betty C. Maina