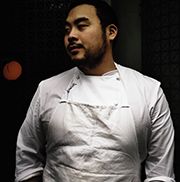 David Chang
Chef and Founder, Momofuku
Featured on:
David Chang is the chef and founder of Momofuku, which includes restaurants in New York City, Sydney, and Toronto as well as a best-selling cookbook and print journal called Lucky Peach.
Momofuku originated in New York City, now home to Momofuku Noodle Bar, Momofuku Ssäm Bar, Momofuku Ko, Momofuku Má Pêche, Booker and Dax, and sister bakery, Momofuku Milk Bar. David opened Momofuku Seiōbo, his first restaurant outside of New York City, at The Star in Sydney in October 2011. In 2012, David opened Momofuku Toronto, located in a three-story glass cube in the heart of downtown Toronto. The building is home to five concepts: Noodle Bar Toronto, Nikai, Milk Bar Toronto, Daishō and Shōtō.
Since opening Noodle Bar in 2004, David has been awarded Time 100 and Fortune's "40 Under 40" and profiled in the New Yorker, Vogue, and on the cover of Forbes Life and New York Magazine. He has been called one of "the most influential people of the 21st century" by Esquire, and one of Fast Company's "1000 most creative people in business." David has taken home five James Beard Foundation Awards (Rising Star Chef of the Year, Best Chef New York City, Best New Restaurant – Momofuku Ko, Outstanding Chef, Who's Who of Food and Beverage), and Momofuku Ko has two Michelin stars, which it has retained for seven years. Momofuku Ko and Momofuku Ssäm Bar are both featured on the S.Pellegrino World's Best Restaurants list.
Read more
Past Events featuring David Chang