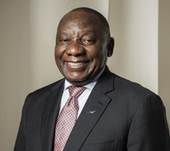 Cyril Ramaphosa 
President, South Africa and Chairperson of the African Union
Featured on:
Mr. Cyril Ramaphosa was elected President of South Africa in 2018 and is currently the Chairperson of the African Union. 
He started his career as an anti-apartheid activist and labor leader and later became a businessman. As a law student, he was involved in student politics, joining the South African Student Organisation and the Black People's Convention. While a law clerk, he continued his studies obtaining his B. Proc degree in 1981. He then joined the Council of Unions of South Africa as a legal advisor. 
In 1982, he founded the National Union of Mineworkers and became the union's first General Secretary. He served as chairperson of the National Reception Committee, which coordinated arrangements for the release of Nelson Mandela. 
Following South Africa's first democratic elections in 1994, he became a member of parliament and was elected as chairperson of the Constitutional Assembly. On completion of the constitution drafting process, he left parliament to move into business, joining New Africa Investments Limited.  
In 2001, he established the Shanduka Group, a black-owned investment holding company. In 2004, he established the Shanduka Foundation, focusing on education and small business development.  
Read more
Stay connected
Past Events featuring Cyril Ramaphosa