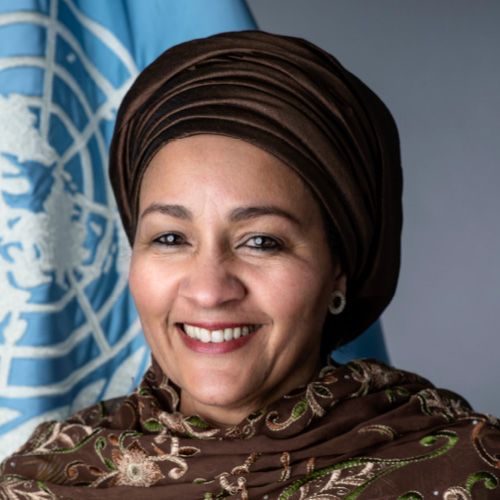 Amina J. Mohammed
Deputy Secretary-General, United Nations
Featured on:
Ms. Amina J. Mohammed is the Deputy Secretary-General of the United Nations and Chair of the United Nations Sustainable Development Group. 
Prior to her appointment, Ms. Mohammed served as Minister of Environment of the Federal Republic of Nigeria where she steered the country's efforts on climate action and efforts to protect the natural environment. 
Ms. Mohammed first joined the United Nations in 2012 as Special Adviser to former Secretary-General Ban Ki-moon with the responsibility for post-2015 development planning. She led the process that resulted in global agreement around the 2030 Agenda for Sustainable Development and the creation of the Sustainable Development Goals.   
Ms. Mohammed began her career working on the design of schools and clinics in Nigeria. She served as an advocate focused on increasing access to education and other social services, before moving into the public sector, where she rose to the position of adviser to four successive Presidents on poverty, public sector reform, and sustainable development. 
Ms. Mohammed has been conferred several honorary doctorates and has served as an adjunct professor, lecturing on international development. The recipient of various global awards, Ms. Mohammed has served on numerous international advisory boards and panels. She is the mother of six children and has two grandchildren. 
Read more
Stay connected
Past Events featuring Amina J. Mohammed