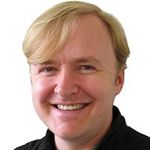 Allen Blue
Co-Founder, LinkedIn
Featured on:
Allen is one of the Co-founders of LinkedIn and Vice President of Product Management. Currently he manages the Content and Communities division, covering LinkedIn's Groups, News, Influencer, Stream and Communication products.
Before joining LinkedIn, Allen designed exploratory products and marketing programs at PayPal. And he was an early employee, Director of Product Design, at SocialNet.com, a first-generation social site.
Before entering technology, Allen lectured on Theatrical Design at Stanford University.
Read more
Past Events featuring Allen Blue