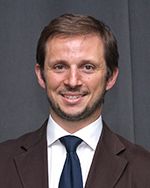 Tommaso Boralevi
Founder & President, Augmented Mankind
Featured on:
Tommaso grew up in Florence then he moved to Berlin to complete a Mechanical Engineering Master's Degree at the Technishe Universitaet, he started his career in the German automotive industry working on alternative technologies and sustainable energy vehicles with BMW and Twike.
In 2002 he is back in Italy to develop Technology ICT Platforms and Project Control Systems for Hi-Speed Railways and large infrastructure projects with FIAT Group, then he accepts the positions of Chief Technology Officer for the Italian business unit of Lend Lease, worldwide leader in Architecture Engineering & Construction, later he becomes responsible for the CEMEA area (Continental Europe, Middle East, Africa) and in 2005 he moved to New York City to manage the financial controls and the technical systems reorganization for the US operations.
Always determined to fulfill his dream of becoming entrepreneur in the USA in 2000 he spent semester between Boston (MIT) and New York actively contributing to the startup of Investars.com, an innovative financial services internet based company.
In 2008 he founded in New York the consulting firm MobilEngineering, among the first Mobile Interactive Agencies in the world to operate solely on advanced mobile concepts and business applications.
His next venture has been WebWorldEmbassy, an innovation consulting agency focused on delivering disruptive solutions. WWE is an ambitious business and a radical cultural project at the same time: the ultimate goal is to bring the best of the virtual world back to the real world experiences. In essence WWE is "the Embassy of the Future in the Present."
Since 2010 he is on the board of BeauSoleil Energy a renewable energy design and
construction company leader in Photovoltaic, Wind and Hydrogen power generation and storage.
In the last few years he has been the cofounder and advisor of a diverse range of tech startup companies like META (augmented reality glasses); EPTHI (real time b2b solutions); Augmented Mankind (immersive reality experiences).
He has a personal investment/incubator vehicle active across multiple industries and multiple geographic regions called Amazing Ventures.
Special Note: during his career he has always been focused on bringing innovation to diverse development projects. Currently is working with an international team to implement an innovative Impact Investing approach to large urban regeneration projects worldwide, the first site under consideration is the area of Universal Exhibition EXPO Milano 2015.
Read more