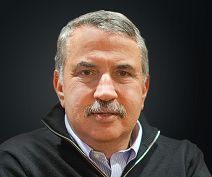 Thomas Friedman
Author, Reporter, and Columnist
Featured on:
Thomas L. Friedman is an internationally renowned author, reporter, and columnist.
In 1978 he joined the London Bureau of United Press International (UPI) on Fleet Street and was dispatched to Beirut as a correspondent a year later.
In May 1981, Friedman joined the staff of The New York Times working as a financial reporter specializing in OPEC and oil-related news. He was appointed Beirut Bureau Chief for the Times in 1982, six weeks before the Israeli invasion of Lebanon. In June 1984, Friedman was transferred to Jerusalem, where he served as the Times' Jerusalem Bureau Chief until February 1988. He subsequently had postings as Chief Diplomatic Correspondent, Chief White House Correspondent, International Economics Correspondent, and Foreign Affairs columnist.
After 9/11, Friedman began making documentaries for the New York Times–Discovery Channel joint venture.
In 2008, Friedman published "Hot, Flat, and Crowded: Why We Need a Green Revolution -- and How It Can Renew America." It became his fifth consecutive New York Times bestseller.
Friedman attended the University of Minnesota, Brandeis University, and received an M.Phil. degree in modern Middle East studies from Oxford. He has won three Pulitzer Prizes, the Overseas Press Club Award for lifetime achievement, the National Press Club's lifetime achievement award and the honorary title Order of the British Empire (OBE) by Queen Elizabeth II.
Read more
Past Events featuring Thomas Friedman