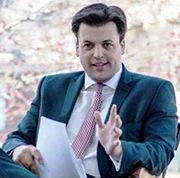 Stathis Anagnostou
Chair, Youth to Youth (Y2Y) Community, World Bank Group
Featured on:
Stathis Anagnostou joined the World Bank Group (WBG) in 2013, as a Finance Professional through its Fast Track Development Program, currently working under Corporate Finance Vice-Presidency focusing on change management and modernization. Previously he was part of External & Corporate Relations Vice-Presidency, where one of his largest areas of focus was the Partnerships between the WBG and the UN, as well as the financial strategy / planning for teams dealing with North America-Australia-New Zealand-Israel, United Nations, Internal Communications and Corporate Outreach. He is co-chairing WBG Youth2Youth since 2014.
Before joining the World Bank Group, Stathis headed the Business Development, Strategy & Investments team of Gulf Investor Circle (GIC) Group, a Private Equity / Venture Capital group focusing on investments in Middle East, Africa and Asia. Prior to that, he worked for Samsung Global Strategy Group in South Korea, focusing on Public-Private Partnerships and Infrastructure / Energy investments in North America but also on the company's strategy to involve in more business areas worldwide. Stathis began his career in Oil & Gas with GL Noble Denton in the United Kingdom, before moving to France and STELMA T.S.A. Group of Companies, a group dealing with shipping construction, infrastructure and energy; he has advised the Board of Directors on significant deals with private organisations or the government in countries such as France, Belgium, Algeria, Kuwait, Chad and Cameroon. Stathis, a Greek national, has lived in 10 countries within 4 continents and is fluent in English, French and Greek.
Stathis holds a BEng (Hons) in Civil Engineering from the University of Nottingham, an MSc in Structural Engineering from Imperial College London, an MSc in Economics & Project Management from University College London (UCL) and an MBA from INSEAD, with an Exchange Alliance at Wharton School, University of Pennsylvania.
Read more
Past Events featuring Stathis Anagnostou