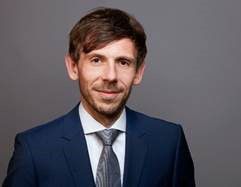 Sebastian Hack
Project Finance Manager, Ib Vogt
Featured on:
Sebastian Hack is a renewable energy specialist and currently Project Finance Manager with the Berlin-based international solar PV developer ib vogt. He has more than 10 years of experience within the private and public sector, finance, development finance institutions and development cooperation.
Having worked on renewable projects in both industrialized as well as in developing economies, Sebastian's technology focus has been on utility-scale photovoltaic power plants. In his current role Sebastian focuses on the evaluation of investment opportunities and structuring investments with debt and equity partners.
Prior to joining ib vogt, Sebastian worked as a sustainable energy and climate change specialist with the Inter-American Development Bank (IDB) in Washington, DC and as sales and transaction manager with Scatec Solar.
He holds a Master's degree in Economics from Ludwig-Maximilians University Munich, Germany.
Read more
Past Events featuring Sebastian Hack