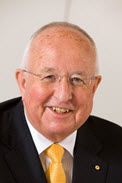 Samuel Walsh
Chief Executive Officer, Rio Tinto Group
Featured on:
Sam Walsh was appointed Rio Tinto chief executive on 17 January 2013. He has served as an executive director to the boards of Rio Tinto plc and Rio Tinto Limited since June 2009.
As chief executive, Sam is driving a substantive transformation agenda to re-focus the business on delivering greater value for shareholders.
Sam has prioritized strengthening the balance sheet. In 2013, he reduced cash operating costs by US$2.3 billion, exceeding the target of US$2.0 billion, and reduced exploration and evaluation spend by US$1.0 billion against the target of US$750 million. Sam has enhanced the Group's capital allocation processes and reduced capital expenditure, and has overseen a reduction in net debt. He is actively re-shaping the portfolio by selling non-core businesses.
At the same time, Sam has overseen the delivery of major projects, including the completion of the Pilbara 290 million tonnes per annum iron ore expansion in Australia four months ahead of schedule and US$400 million dollars under budget, as well as the Oyu Tolgoi copper-gold mine in Mongolia which started shipping concentrate in July 2013.
The announcement in November last year of the game-changing breakthrough Pilbara growth pathway which will save around US$3.0 billion in expansion capital costs is a highlight from Sam's tenure.
Before becoming Group chief executive, Sam was chief executive of Rio Tinto's Iron Ore product group from 2004, covering operations and projects in Australia, Canada, and India, and Guinea. In November 2009, he also took on the role of chief executive of Rio Tinto Australia.
Sam has been with Rio Tinto since 1991. Before joining Iron Ore he held a number of positions including chief executive of the Aluminium group from 2001 to 2004. Prior to joining Rio Tinto, Sam spent 20 years in the automotive industry and held senior roles with General Motors and Nissan Australia.
Sam is a Fellow of the Australian Institute of Management, the Australasian Institute of Mining and Metallurgy, the Australian Academy of Technical Sciences and Engineering, and the Chartered Institute of Purchasing and Supply.
As a strong supporter of the arts, Sam held a number of senior positions in community and business organizations as well as participated in various government-led initiatives while based in Australia. Sam was conferred with honorary life membership of the Western Australian Chamber of Arts and Culture and was appointed as roving Ambassador for the Chamber in 2013.
Sam was awarded an Honorary Degree of Doctor of Commerce from the University of Western Australia in 2014. In the same year, his services to business were recognised by the University of Melbourne's Faculty of Business and Economics with the Lifetime Achievement award. Sam was the inaugural recipient of the Chartered Institute of Purchasing and Supply's CEO Procurement Champion Award in 2013. In 2012, he was awarded a Gold Medal by the Australian Institute of Company Directors. In 2011, he was recognised with the Richard Pratt Business Arts Leadership Award in Australia.
In 2010, in recognition of his distinguished contribution to business and the community, Sam was appointed as an Officer in the General Division of the Order of Australia and awarded an Honorary Doctor of Commerce by Edith Cowan University. In 2007, Sam was named Western Australian Citizen of the Year – Industry & Commerce and an Australian Export Hero.
Sam became a patron of the University of Melbourne's "I Believe" Campaign in 2014. Sam has a Bachelor of Commerce from the University of Melbourne and has completed a Fellowship Program at Kettering University in Michigan.
Sam is married to Leanne. He has three children and four grandchildren.
Read more
Past Events featuring Samuel Walsh