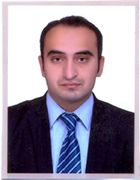 Raheel Rasool
Deputy Director, State Bank of Pakistan
Featured on:
Raheel carries more than 5 years of rich and practical experience in the area of Development Finance (DF) Sector of Pakistan.
He is well versed with both the broad and narrow aspects of Financial Inclusion and its linkages with economic and social development in rural areas of the country. He has in-particular expertise in design and implementation of various SBP's guarantee and subsidy schemes for employment generation and financial inclusion, targeted towards Small Farmers and Rural Enterprises. He also specializes in monitoring and evaluation of different developmental projects and analysis of development sector data apart from actively coordinating DF related programs of SBP. He has been instrumental in SBP's project on socio economic regional profiling of different districts of Pakistan, with significant economic potential. These regional profiles serve for designing future development finance strategies/ policies for particular regions. He remained involved in CGAP's I-SIP Study on Pakistan and collaborated with DFID & FAO in design/review of DF related Interventions.
Raheel is also Boulder MFT Graduate.
Read more