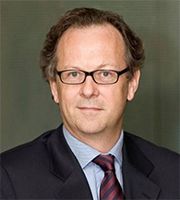 Pierre Guislain
Senior Director, Transport and ICT, World Bank
Featured on:
Pierre Guislain, a Belgian national, is (since July 2014) the Senior Director for the Transport and Information & Communication Technologies (ICT) Global Practice at the World Bank, providing support to developing countries in improving their connectivity and competitiveness by linking people to markets, services and employment opportunities.
Transport is the World Bank's largest lending sector accounting for about 20% of the total portfolio, while ICT is increasingly at the core of development solutions in all sectors. Major areas of emphasis for Transport & ICT include an increased focus on climate change (mitigation and adaptation), urban mobility, road safety, regional connectivity, multimodal transport and logistics, as well as broadband development, Internet access and digital platforms and solutions for public services.
Pierre was previously (2006-2014) the Director of the joint Bank-IFC-MIGA Investment Climate Department (CIC). In this position, he also served as co-director at IFC for Fragile and Conflict Affected countries. From 2001-2005, Pierre was the Manager of the Bank's Global Telecommunications and ICT Sector division. He joined the Bank in 1983 and has served the World Bank in a range of capacities in the legal department, private sector development, Africa, Asia, and Middle East and North Africa regions.
During that time, he spearheaded the creation of the private participation in infrastructure division, and established and managed a joint program with the European Commission on Private Infrastructure in the Middle East and North Africa.
Pierre brings extensive experience in private sector development and infrastructure sector reform, including Transport and ICT, as well as a deep practice of partnership within and outside the World Bank. He is author and editor of publications on PSD, foreign direct investment, ICT, infrastructure reform and privatization.
He holds an MPA in Economics and Public Policy from Princeton University, as well as a graduate degree in Belgian and International Law and a Bachelor's degree in Philosophy from the Université Catholique de Louvain.
Read more
Past Events featuring Pierre Guislain