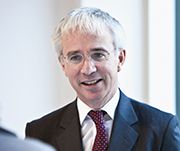 Peter Sands
Group Chief Executive, Standard Chartered Bank
Featured on:
Peter Sands was appointed Group Chief Executive in November 2006. He joined the Board of Standard Chartered PLC as Group Finance Director in May 2002, responsible for Finance, Strategy, Risk and Technology and Operations. Prior to this, Peter was Director and Senior Partner at worldwide consultants McKinsey & Co. Before joining McKinsey, Peter worked for the United Kingdom's Foreign and Commonwealth Office.
Standard Chartered is a leading international banking group, with more than 86,000 employees and a 150-year history in some of the world's most dynamic markets. We bank the people and companies driving investment, trade and the creation of wealth across Asia, Africa and the Middle East, where we earn around 90 per cent of our income and profits. Our heritage and values are expressed in our brand promise, Here for good.
Standard Chartered PLC is listed on the London and Hong Kong Stock Exchanges as well as the Bombay and National Stock Exchanges in India.
Peter is the lead non-executive board member of the Department of Health in the United Kingdom and the co-chair of the India UK CEO Forum. Peter holds a number of board memberships including the Institute of International Finance and the International Monetary Conference. Peter is a member of the Global CEO Council set up by the Chinese People's Association for Friendship with Foreign Countries to advise the Chinese government and also serves on the Monetary Authority of Singapore's International Advisory Panel. Peter graduated from Oxford University and holds a Masters in Public Administration from Harvard University, where he was a Harkness Fellow. Peter, who grew up in Asia, is married with four children.
Read more
Past Events featuring Peter Sands