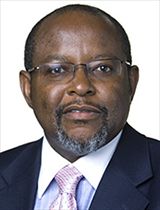 Ombeni Sefue
Chief Secretary of Government, Tanzania
Featured on:
Ambassador Ombeni Yohana Sefue was sworn in as Chief Secretary of the Government of the United Republic of Tanzania on 31st December 2011. As Chief Secretary, he is Secretary to the Cabinet and Head of the Public Service. Before that, Ambassador Sefue served as Ambassador and Permanent Representative of the United Republic of Tanzania to the United Nations in New York from 31st August 2010.
Prior to that, he was Tanzania's Ambassador to the United States of America in Washington D.C. from 15th June 2007 to 14th August 2010, with concurrent accreditation to Mexico. Previously, Ambassador Sefue served as his country's High Commissioner (Ambassador) to Canada from October 2005 to June 2007, with concurrent accreditation to Cuba. A career diplomat, Ambassador Sefue also served as Counsellor in the Embassy of Tanzania in Stockholm, Sweden, between 1987 and 1992.
Between 1993 and 2005, he worked as Speechwriter and Personal Assistant to two Presidents of Tanzania— President Ali Hassan Mwinyi (1993-1995) and President Benjamin William Mkapa (1995–2005). From October 2010 to December 2011, Ambassador Sefue served as Vice-Chair of the Board of Partnership to Cut Hunger and Poverty in Africa based in Washington DC, and since then he continues to serve as Board Member Emeritus of the Partnership.
He has travelled the world extensively and participated in more than fifty regional and international conferences. He was Joint Dialogue Convener of the 2013 International Smart Partnership Dialogue focusing on Leveraging Technology for Africa's Transformation held in Dar es Salaam, Tanzania in June/July 2013.
Ambassador Sefue studied Public Administration at the then Institute of Development Management (now Mzumbe University) graduating in 1977 with a First Class Diploma. He earned an M.A. in Public Policy and Administration (with Distinction) from the then Institute of Social Studies (ISS) in The Hague, (now known as The International Institute of Social Studies of Erasmus University) The Netherlands, (1981).
He holds a Post-Graduate Diploma in International Relations and Diplomacy (First Class) from the Tanzania-Mozambique Centre for Foreign Relations in Dar es Salaam, Tanzania (1986). He also has certificates in international negotiations from the International Peace Academy, and in economic and social problems of developing countries from the Institute of International Relations and Socialist Integration with the Presidium of the Bulgarian Academy of Sciences (1984).
In recognition of his extensive diplomatic career and the work done with different presidents, Ambassador Sefue received from President Jakaya M Kikwete one of the Nation's highest honours/awards, The Order of The United Republic of Tanzania, First Class, on 9th December 2012. Ambassador Sefue edited The Mkapa Years: Collected Speeches, a three volume compendium of President Mkapa's speeches published by Mkuki na Nyota Publishers in Dar es Salaam in 2013. Ambassador Sefue is married to Mrs Anita M. Sefue and they have two adult children.
Read more
Past Events featuring Ombeni Sefue