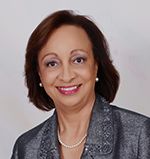 Maureen Samms-Vaughan
Professor of Child Health, Child Development and Behavior, University of West Indies, Jamaica
Featured on:
Professor Maureen Samms-Vaughan is known locally, regionally and internationally for her seminal research, clinical work and policy development in the field of child health, child development and behavior. She is also recognized as an advocate for the well-being of all children, but particularly so for those at the early childhood level and those with disabilities.
She served in a number of academic positions at the University of West Indies (UWI) such as Lecturer and Senior Lecturer in Child Health since 1993, and was appointed UWI's first Professor of Child Health, Child Development and Behavior in 2006. She has been Consultant Developmental and Behavioral Pediatrician at UHWI and Director of the weekly Child and Family Clinic for children with developmental and behavioral disorders since 1993. She has taught at the undergraduate and postgraduate levels throughout the UWI and has supervised doctoral students at the UWI and at several universities in the USA in child development research. She has Adjunct Professorial status at universities in the USA.
She was appointed the first Chairman of the Early Childhood Commission, a body established by the Government of Jamaica to develop the country's early childhood sector in 2003. Under her leadership, the Early Childhood Commission (ECC) has developed and implemented Jamaica's first cross-sectoral National Strategic Plan for Early Childhood Development (ECD), addressing parenting, well-child care and nutrition, screening and early intervention, regulation of early childhood institutions, training of ECD practitioners, coordinated sector-wide planning and budgeting and monitoring and evaluation of child development. She has also guided the ECC in the development of Jamaica's National Parenting Policy and is in the process of guiding the development of Jamaica's ECD Policy.
Prof. Samms-Vaughan has over 50 publications, including three books, several book chapters and peer reviewed papers, on a range of child development and behavior related topics. She has also completed numerous consultancies in the field of child development and behavior for the IDB, the World Bank, UNICEF and PAHO. She is currently a member of the IDB's Advisory Group on Early Childhood Development.
Read more
Past Events featuring Maureen Samms-Vaughan