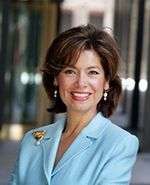 Maria Contreras-Sweet
Administrator of the US Small Business Administration (SBA)
Featured on:
Maria Contreras-Sweet was sworn in as the 24th Administrator of the U.S. Small Business Administration (SBA) and as a member of President Obama's cabinet on April 7, 2014.
As a business leader, California state cabinet official and entrepreneur, her achievements in bringing efficiencies and modernization to large scale organizations, have earned her international acclaim. She has started three businesses, including a community bank in downtown Los Angeles, focused on small and mid-size businesses where she served as its executive chairwoman for seven years.
Prior, she served as the California cabinet Secretary of the Business, Transportation and Housing Agency, where she oversaw 44,000 employees, a $14 billion budget, and 14 state departments, including the departments of Transportation, Highway Patrol, Housing, Financial Institutions, Corporations, Real Estate and the DMV. She is a founding director of The California Endowment, a three billion dollar foundation dedicated to improving the health status of Californians.
The SBA is charged with supporting America's 28 million small businesses, which create a majority of US jobs and employ half of our nation's private-sector workforce. The Agency oversees the world's largest seed fund and the largest middle market fund of funds, as well as a $120 billion loan portfolio. Her drive to bring SBA into the digital age, and expand into broader domestic and global markets has yielded record results in lending and contracting for small businesses.
Read more
Past Events featuring Maria Contreras-Sweet