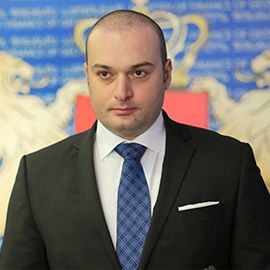 Mamuka Bakhtadze
Minister of Finance of Georgia
Featured on:
Dr. Mamuka Bakhtadze is a Minister of Finance of Georgia since November 2017 and is a special representative at New Silk Road from Georgian Government.
Prior to his appointment as a Minister from 2013 he worked as a CEO of JSC Georgian Railway. Before that he also held various high positions in the private sector such as being CEO of Georgian International Energy Corporation and Member of Georgian Industrial Group's Executive Board. 
Mr. Bakhtadze holds an MBA from INSEAD, Master's Degree in Business from Lomonosov Moscow State University and Bachelors in Organization & Management of Foreign Economic Affairs from Ivane Javakhishvili Tbilisi State University. He obtained his PhD and BA from Georgian Technical University in Electromechanical Engineering.
In his young age, Mamuka Bakhtadze managed to capitalize on the list of success stories for the companies he represented and his country, Georgia. This ultimately resulted to his transition from business to the Government sector. During his position at the Georgian Railway, the company managed to become one of the leaders of the industry. During Mr. Bakhtadze's position at Georgian railway, he successfully lobbied Georgian position for Project Viking, ZUBR and South-West corridor. To continue, Mr. Bakhtadze played key role for making Georgia part of Middle Corridor for One Belt One Road initiative, as proposed by president Xi Jinping, which once more accentuated Georgia's role as a regional transport hub.
Read more
Past Events featuring Mamuka Bakhtadze