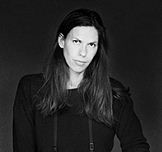 Jutta Benzenberg
Photographer, Albania/Germany
Featured on:
Jutta Benzenberg studied photography in Munich and worked as a photographer for several German magazines and theaters: she also worked as camera assistant and cameraman with BR and other televisions programs
Msd. Benzenberg focused for several years on projects for books and exhibitions and her photographs have been exhibited in Germany, France, Austria, Italy, Switzerland, Greece, and Albania. She authored three books: "Albanisches Überleben" – Albanian Survival"; "Bukuri e rëndë – "Sombre Beauty", and "Ahead with the Past."
From May 2013 to April 2014 she worked as the official Photographer of Albenia's Prime Minister Edi Rama. She currently works as a freelance photographer with various aid organizations in Tirana.
Read more