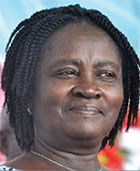 Jane Naana Opoku-Agyeman
Minister of Education, Ghana
Featured on:
Jane Naana Opoku Agyemang is the Minister for Education of Ghana, appointed in 2013 by President John Mahama after the 2012 Ghanaian general election. Naana has served as former Vice-Chancellor of University of Cape Coast, Ghana, the first female Vice-Chancellor of a state University
in Ghana.
Naana has served in various academic positions, including Head of the Department of English, Dean of the Faculty of Arts, Warden of Adehye Hall, Valco Trust Fund Post-Graduate Hostel, and Dean of School of Graduate Studies and Research.
She has served as Academic Director of the School for International Training in the History and Cultures of the African Diaspora. From 2008-2012 she was the University's Vice Chancellor.
In March, 2007, she was one of five scholars selected to deliver presentations during the 200th Anniversary of the Abolition of Slavery at the United Nations Headquarters in New York. In October 2009, she was elected Ghana's representative to the Executive Board of the United Nations Educational, Scientific and Cultural Organisation (UNESCO).
Read more