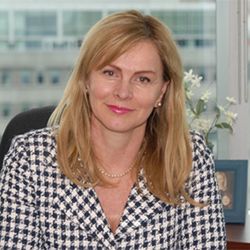 Jane Hupe
Deputy Director, Environment, Air Transport Bureau, ICAO
Featured on:
Ms. Jane Hupe is the Director responsible for the Environment program at International Civil Aviation Organization (ICAO), and serves as the Secretary of the ICAO Council's Committee on Aviation Environmental Protection (CAEP). Ms. Hupe has a vital role in providing leadership for ICAO's efforts to define and promote policies and Standards for environmentally sustainable aviation, managing a portfolio that includes aircraft noise, local air quality, global climate, clean energy and sustainable aviation fuels, adaptation, circular economy and a global market-based measure for international aviation.  Under her leadership, the ICAO Balanced Approach to Aircraft Noise Management policy was established and various new and more stringent global Standards to reduce aircraft noise and emissions affecting local air quality and global climate were adopted, with particular mention of the world's first global CO2 certification standard for any industry sector, adopted in 2017.
Ms. Hupe was at the forefront of the conceptualization and development of the Carbon Offsetting and Reduction Scheme for International Aviation (CORSIA), which was agreed in 2016 as the first global market-based mechanism for any industry sector. She ensures that "CORSIA is on track" by leading its implementation strategy, including putting in place the necessary regulatory frameworks and tools whilst ensuring that "no country is left behind" by implementing ACT-CORSIA (Assistance, Capacity Building and Training for CORSIA), one of the most ambitious assistance program undertaken by ICAO. Ms. Hupe also manages various external funded projects for implementation of mitigation measures and capacity building, focusing on SIDS and other developing States, and coordinates activities with academia, other international organizations and UN bodies.
For her contribution to the IPCC work as a lead author on aviation-related issues, she received a certificate acknowledging her contribution to the IPCC's award of the 2007 Nobel Peace Prize. Prior to joining ICAO in 1998, Ms. Hupe served as advisor on environmental matters to the Brazilian Aviation Authorities for 15 years. With her many years of experience with environmental issues. Ms. Hupe holds a Master's degree in Aviation from the École Nationale de L'Aviation Civile (ENAC), Toulouse, France, and many other post-graduate degrees, including in environmental auditing.
Read more
Past Events featuring Jane Hupe