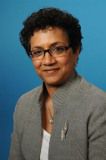 Geeta Rao Gupta
Deputy Executive Director, UNICEF
Featured on:
Geeta Rao Gupta, Deputy Executive Director, joined UNICEF in June, 2011. She brings over 20 years of experience in international development programming, advocacy and research to the UN children's agency. Prior to her appointment, Ms. Rao Gupta served as a senior fellow at the Bill and Melinda Gates Foundation from 2010 to 2011. She acted as the senior advisor to the Global Development Programme on the strategic direction and management of a cross-cutting range of issues and projects.
From 1996 to 2010, Ms. Rao Gupta was the president of the International Centre for Research on Women. She conducted and oversaw research on topics ranging from the social and economic factors that affect women's use of maternal nutrition and health care services, to girls' and women's vulnerability to HIV. Under her leadership, the ICRW catalyzed policy and programmatic change for women and children around the globe. Ms. Rao Gupta has also led and participated in numerous high-level, global initiatives for women and children, including the U.N. Millennium Project's Task Force on Education and Gender Equality and the U.N. Secretary-General's Youth Employment Network.
Ms. Rao Gupta is the recipient of numerous awards, including Harvard University's 2006 Anne Roe Award and the 2007 Washington Business Journal's "Women Who Mean Business" Award.
She earned a Ph.D. in Social Psychology from Bangalore University and an M.Phil. and M.A. from the University of Delhi, India.
Read more
Past Events featuring Geeta Rao Gupta