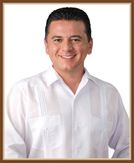 Fredy Efren Marrufo Martin
Mayor of Cozumel, Quintana Roo, Mexico
Featured on:
Mr. Fredy Efren Marrufo was born in Cozumel, Quintana Roo, Mexico, where he studied until attending Riverside Military Academy near Atlanta, Georgia. He then earned a Bachelor's degree in accounting from the University of Mayab in Mérida, Yucatán.
Since entering public service in 1997, Mr.Marrufo has served the state of Quintana Roo in a variety of capacities, including Director of Revenue; City Treasurer in the State Government; Administrative Director of Bachilleres High School of the State; General Director of Administration of the Administrative Office of the State; and Secretary of Treasury. He was elected as Deputy of the 13th legislature, chairing the Committee on Finance, Budget and Account.
In 2013, Mr. Marrufo was elected to a three-year term as Mayor of Cozumel—the largest and most populated island in Mexico—known for its bustling, tourism-based economy. He currently also serves as Treasurer of the National Federation of Municipalities of Mexico (FENAMM).
Read more
Past Events featuring Fredy Efren Marrufo Martin