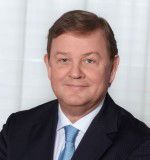 Feike Sijbesma
CEO, Royal DSM
Featured on:
Feike Sijbesma (Dutch, male, 1959) studied medical (molecular) biology at the University of Utrecht (the Netherlands) and business administration at Erasmus University in Rotterdam (the Netherlands).
In 2000, Feike joined DSM's Managing Board of Directors. He became CEO & Chairman of the Managing Board on 1 May 2007.
Within DSM Feike oversees the Managing Board and the Executive Committee and chairs their meetings. Within the Managing Board he is the primary point of contact with DSM's Supervisory Board. He is also responsible for innovation within DSM via the Innovation Centre and its Emerging Business Areas. Other responsibilities include taking care of the following departments and functional areas: Corporate Affairs, Corporate Sustainability, Corporate Strategy & Acquisitions, Group People & Organization, Group Communication & Branding, Group Legal Affairs, and DSM Marketing and Sales.
Read more
Past Events featuring Feike Sijbesma