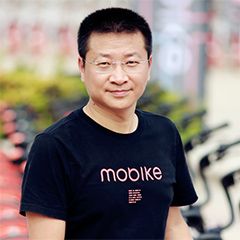 Davis Wang
Co-Founder & CEO, Mobike
Featured on:
Davis Wang is a co-founder and CEO of Mobike. A veteran of China's tech sector, under his leadership Mobike has grown from a small Shanghai-based start-up to one of the world's most dynamic, fastest-growing companies - and the global leader in bike-sharing, conducting 20 million rides daily across more than 200 cities around the world.
Prior to joining Mobike, Davis was Shanghai General Manager for Uber, where he oversaw the company's operations in one of its largest cities globally. Before Uber, he served as Deputy General Manager at Tencent, leading growth and expansion of its performance-ads business. He was also one of the early members at Google China building up its search engine advertising channels in eastern China from scratch.
He graduated from Xiamen University with a degree in business administration, and began his career as a management trainee with P&G China. He was quickly promoted from sales specialist, sales manager to project manager at P&G and later moved to Coty, the largest fragrance company in the world, where he served as Sales Director.
his achievements with Mobike, Davis has received the "Ram Charan Management Practice Award from the Harvard Business Review.
Read more
Past Events featuring Davis Wang