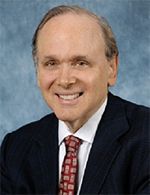 Daniel Yergin
IHS Vice-Chairman, Author & Energy Expert
Featured on:
Daniel Yergin, IHS Vice Chairman, is a Pulitzer-Prize winning author and leading authority on energy, international politics and economics and is a recipient of the U. S. Energy Award for "lifelong achievements in energy and the promotion of international understanding." His latest book The Quest: Energy, Security, and the Remaking of the Modern World, has been hailed as "a fascinating saga" about the "quest for sustainable resources of energy" and "the book you must read to understand the future of our economy and our way of life." The Quest is the follow-up to his previous book, The Prize: the Epic Quest for Oil Money and Power, which received the Pulitzer Prize and became a number one New York Times best seller that has been translated into 17 languages. Other works by Dr. Yergin include Commanding Heights: The Battle for the World Economy; Russia 2010; Energy Future; and Shattered Peace. Dr. Yergin has also written for The New York Times, Wall Street Journal, Financial Times, Foreign Affairs, Foreign Policy, The Atlantic, International Herald Tribune, and many other publications. He is also CNBC's Global Energy Expert. Both The Prize and Commanding Heights were made into award winning documentaries. The eight-hour miniseries The Prize was aired on PBS, BBC, and NHK and viewed by 20 million viewers in the United States alone. The 6-hour documentary of, Commanding Heights that Dr. Yergin produced received three Emmy nominations, the CINE Golden Eagle award, and the New York Festivals Gold World Medal for best documentary.
Dr. Yergin serves on the U.S. Secretary of Energy Advisory Board and chaired the U.S. Department of Energy's Task Force on Strategic Energy Research and Development. He is a Trustee of the Brookings Institution, on the Board of the New America Foundation, and on the advisory boards of the Massachusetts Institute of Technology's Energy Initiative and the Institute for 21st Century Energy.
Dr. Yergin holds a BA from Yale University, where he founded The New Journal, and a PhD from Cambridge University, where he was a Marshall Scholar. He has taught at the Harvard Business School and the Kennedy School of Government at Harvard University.
Read more
Past Events featuring Daniel Yergin