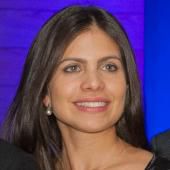 Cristina Fernández
Vice President for Policy and Research Global Entrepreneurship Network
Featured on:
Cristina Fernández focuses on integrating policymakers into startup ecosystems across the world, creating platforms for them to exchange ideas with other nations' policymakers in order to identify the best ways to unleash entrepreneurship. In every initiative, she seeks to integrate the best research in the field to better guide policymaking. In every initiative, Cristina liaises closely with the policymakers and policy advisors in 150 countries.
Prior to joining the leadership team at Global Entrepreneurship Network, Cristina was a Research Analyst at the Kauffman Foundation, and Operations Manager for a Millennium Challenge Corporation-funded project in Paraguay, as well as an entrepreneurial imports company in Brazil. She was also a consultant for an international patent and trademark law firm that helps foreign entrepreneurs enter the growing Paraguayan market.
Cristina was trained as an economist and political scientist at the University of Kansas and received a Master's in International Trade and Investment Policy from the George Washington University School of International Affairs. She speaks English, Spanish, Portuguese, and some German and French.
Read more