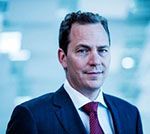 Bill Bien
Global Head of Strategy, Marketing and Alliances, Philips Lighting
Featured on:
Bill Bien joined Philips in January 2015 as Head of Strategy and Marketing for Philips Lighting. His focus is on driving the strategic direction of the business, building the brand and delivering a strong integrated marketing capability to underpin the company's growth plans.
Bill has extensive experience in strategy development in the technology sector, international marketing, services business development and corporate development. His career has recently focused on strategic consulting for start-up business and Fortune 100 high technology industry leaders in the USA. He joined Philips from the Waterstone Management Group (San Francisco, USA.)
Prior to that Bill has worked in senior management roles for Telstra in Australia and Cisco in the United States. His marketing work has won global awards for branding and enterprise marketing campaigns. He has also worked for the Boston Consulting Group in Asia.
Read more
Past Events featuring Bill Bien