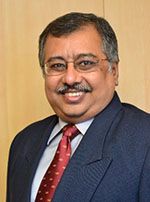 Anirban Ghosh
Vice President, Sustainability, Mahindra & Mahindra
Featured on:
Mr. Anirban Ghosh has been working at Mahindra and Mahindra since 1999. He currently leads the Sustainability work in the Mahindra Group as Chief Sustainability Officer.
During his tenure with Mahindra he has been a part of the team that helped the tractor business become the largest tractor company in the world. His roles have included Sales, Marketing, Strategy and New Business Development. He has also been the President of Mahindra's tractor business in the United States of America.
Mr. Ghosh has played a key role in the Group's expansion into the Agriculture business since 2010. He has led the implementation of National Award winning shared value projects like Watershed Development and given a strategic approach to the Group's social investments. The Strategy work done by Mr. Ghosh and his team led to a white paper on enabling the second green revolution in India.
During his career Mr. Ghosh has served on the committees of a number of Industry Associations in India and in the USA including being a member of the Board of the Association of Equipment Manufacturers, USA. He has also been guest or visiting faculty at a number of management institutes in India including the Indian Institute of Management, Ahmedabad and Indian Institute of Management, Indore.
Read more
Past Events featuring Anirban Ghosh